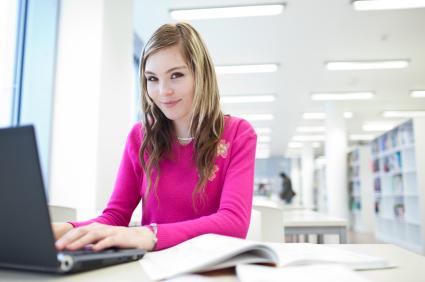 Even though the Internet is full of cool websites, it can be boring if you don't know where to look. Teens who wish to add more entertainment to their online activity can find a large selection of social networking websites, places to play games and other sites based on their interests. Great websites can alleviate boredom and make online interactions fast and simple.
Sites for Girls
While there are lots of websites for teens, sometimes teen girls want to connect with other girls. These websites give girls a place to learn and talk about female health issues, relationships and subjects that most teen boys would run from.
Girlshealth.gov
Sponsored by the U.S. Department of Health and Human Services, Girlshealth.gov features health information for tween and teen girls. In addition to articles on health, fitness and nutrition, girls will also find quizzes, celebrity spotlights and videos with tips on topics such as bullying, relationships and planning for the future.
Girl Zone
Girls looking for a place to hang out online will enjoy Girl Zone, a website designed to provide advice, entertainment and fun for teen girls. The highlight of the website is the multiple advice columns that focus on everything from general life issues and relationships to the Ask Ms. KnowBODY section for questions about health and body issues.
Sweety High
Sweety High is an online social game for girls. Within this safe social-networking world, teen girls can upload videos, write and create digital artwork. As they interact with their virtual friends, they can win virtual rewards and share their favorite music. Girls can also earn points and become celebrities within the virtual world. The site regularly hosts contests and online events.
Sites for Guys
While there are not a lot of sites designed for teen guys, there are a few websites that help boys conquer their boredom or discuss difficult topics from the comfort of their homes.
Young Men's Health
Boston Children's Hospital presents Young Men's Health, a website designed to provide information about teen health. Teen boys can ask questions or review the question of the week to find information on uncomfortable health issues. They can also browse in-depth health guides in categories ranging from health and fitness to emotional or sexual health.
Boys Under Attack
Boys Under Attack is a Christian-based website that helps teen boys learn about their bodies. The website promises straight talk about body parts and other issues. As a result, much of its language is sexually explicit. However, many boys may appreciate the straight talk approach that gives an honest overview and healthy discussion of the issues they face.
Guys Read
Guys Read encourages teen boys to read by offering book suggestions geared toward things teen boys like. Boys can browse the reading lists, read reviews or learn how to start a group locally. The site also has a Twitter page, which young boys who like to read will enjoy.
Sites for Socializing
Teens love to socialize. These websites give them a chance to do that virtually while playing games, exploring virtual worlds and taking polls and quizzes. Of course, while interacting with other teens virtually, teens also need to be safe online and report any cyber bullies or other predators.
Instagram
Instagram allows teens to share snapshots of their daily lives and share them with friends. They say that a picture is worth a thousand words, and that must be true because Instagram has around 300 million users who are active each month. The site is all about photos with short captions. 53% of users are age 18-29, but a big percentage of those may be even younger and simply listing their age as 18 to gain access.
WeeWorld
WeeWorld allows teens to create miniature avatars called WeeMees and interact in the WeeWorld community by chatting and playing games as they visit various locations, including WeeWorld High.
Habbo Hotel
Habbo Hotel is a place for teens to come and chat. Each teen receives a personal room to decorate with virtual objects. They can also customize their avatars by dressing them in virtual clothes or create games to play with friends. The room might have music, be set up like a classroom, or have other features so the different avatars can visit one another. The rooms teens can interact in are staffed by adult moderators to make sure it stays safe.
Fan La La
Fan La La gives teens who love teen celebrities, music and TV shows a place to interact. Get the latest news and gossip on favorite shows. Take quizzes and polls to test knowledge. Teens can follow Fanlala on social media and interact with other teens.
Teen Chat
Teen Chat is a place for teens to interact with one another through forums geared toward their interests. For example, there are chat rooms for those who love anime, for single teens, and for those who've just started college. There are also chat rooms devoted to things like music, games, and sports. Teens can try out the local rooms which helps them meet people who live in their area. The site offers a "Friend Finder" tool that will help teens search for people they know who might be members as well.
Vine
Vine is Twitter's video sharing site but the videos are six seconds or less. As of 2014, 25% of US teens were using Vine while engaging on Twitter. These super short videos are a great way for teens to share slices of life with followers. The videos also loop so they are perfect for sharing those truly funny moments in life.
Games and Hobbies
There are websites for nearly every game and hobby out there.
TeenReads
Teens who love to read will enjoy TeenReads. The website features reviews of new and popular books for teens, along with polls, contests and places to discuss favorite books. Teens can also work their way through the "ultimate" reading list on the site.
Teen Nick
Teen Nick fans will find information on the latest shows, as well as games, videos and quizzes through Teen Nick's website. While the site offers updates about Teen Nick shows, it also has features that interest teens such as surviving high school and back to school ideas.
The InSite
The InSite is designed for teens who have an interest in improving the world. Teens can learn about social justice, building a positive self-image and helping the Earth. They can also submit artwork and writing or participate in discussions about making the world a better place.
Challenge You
Challenge You is a computer game design website. Teens can design games on the site or play games designed by other kids and teens. They can share their games with friends or participate in weekly game-building contests. There is also a chat room and a forum where site users can discuss game building and play.
Homework Resources
For teens who are having trouble with homework, multiple sites offer help. They are also good sites to visit simply to brush up on skills.
Internet Public Library
The Internet Public Library's ipl2 for Teens features educational resources for teens. Find help writing research papers, information about health and sexuality and other general school and homework help through the various resource pages. There are even tips for helping out a procrastinator or tips on how to write a research paper.
Quiz Hub
Quiz Hub features quiz games for students, including teens in middle and high school. Teens can take quizzes to review subjects such as biology, U.S. history, middle school math and SAT vocabulary.
Web Math
Web Math helps teens who are struggling with math find the answers to challenging questions. However, instead of simply providing answers, the website shows teens how to arrive at the answers they seek by providing step-by-step instructions.
Fashion
Teens who love fashion can find the latest fashions as well as create original fashions online. There are a number of sites that will appeal to those who enjoy this topic.
Alloy
Alloy.com is a great site that incorporates clothing and quizzes. Everything from celebrity gossip to what stars are wearing is covered. There is even a specialty section for guys and men's fashions. The overall tone is sarcastic and youthful.
Stardoll
Stardoll features games that allow teens to express their fashion sense. Design outfits or play dress up games to experiment with different types of fashion. The company consistently produces new and exciting features like new fashion lines as well as a host of ways to make the ultimate experience more exciting for teens and tweens. There is always something new going on at Stardoll.
Teen Vogue
Vogue is one of the top fashion magazines and Teen Vogue caters specifically to the teen audience. Check out the latest styles for teens or learn all about celebrity style. Teens can also enter to win shopping sprees.
Staying Safe Online
It is important for teens to remember to stay safe online, especially when interacting with others. Inappropriate content, Internet predators and cyber bullies are lurking around every corner. Even though may not want their parents involved in their Internet use, allowing parents to be involved a little can help keep everyone safe. Take the following precautions to ensure online safety:
Keep the family computer in a public place, such as the kitchen or living room.
Make sure privacy settings are enabled on social networking pages and provide parents with the password for random checks.
Set time limits on Internet use.
Tell parents about any concerns or instances of cyber bullying.
For parents, talking to teens about making good choices online helps deter any unwanted behavior.
Finding Cool Websites
What's cool with teens is constantly changing and new websites are created daily. Teens should ask friends what websites they visit to find new places to visit online. Conduct searches for hobbies, interests and favorite celebrities. It's a good idea to bookmark favorite sites so they'll be easy to find later.