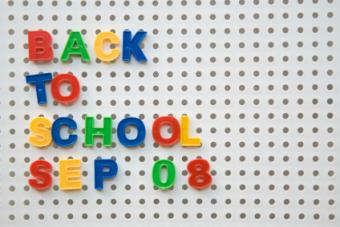 Back to school bulletin boards are a great way to decorate a classroom and your own room at home. Bulletin boards can help create the right atmosphere in a classroom by incorporating a fun theme and school spirit. Teen bulletin boards at home can do this as well, and give students a place to keep important notes and photos.
Back to School Bulletin Boards for Teachers
Sometimes it can be frustrating creating a bulletin board for teens. You want to create something fun to welcome the students in the fall, but it needs to be more adult than cute. Keeping this in mind, the following ideas can help you create a nice bulletin board instead of leaving that cork bare:
Use bright colors, even if it is just a mundane bulletin board to showcase upcoming assignments
Use a theme such as football, soccer, books or historical events
Don't overcrowd the board - balance the white space
Use large letters that can be seen across the room
Outline letters with a dark marker if necessary to make words stand out on the bulletin board
School Bulletin Board Ideas
Perhaps you're looking for some new ideas for your back to school bulletin boards. If so, consider using the following:
Football - use paper football helmets, footballs, stadiums, football fields and other similar items to liven up that blank board
Popular books - using a color copier, copy the front covers of popular books or required reading titles for your class this year.
Journalism - use an interesting background for your bulletin board such as a giant sized spiral notebook page and paper pencil or pen boarders.
Sociology - use copies of yearbook photos, or obtain photos prior to school of parents and children for an interesting bulletin board that can kick off a fall genealogy project
History - use historical or current events each month or create a time line that you can add to as you cover subjects from the textbook.
Science - teens love the bizarre, so take a note from Myth Busters and show them science can be interesting and fun. Using drawings from Da Vinci's inventions can also make for an interesting bulletin board.
Teen Bulletin Boards at Home
If you don't already have one, now is the time to get one. A bulletin board can be a place to show off photos of your friends, a functional item to keep important information at hand or simply as a room decoration. Try the following ideas for your bulletin board if you're feeling creative:
Wrap the bulletin board in a thin material and staple to the back of the board. This will get you away from the drab utilitarian corkboard look.
Snugly crisscross thin ribbon across the board and place thumbtacks where the ribbon crosses itself. Insert photos or other ephemera in the areas between the thumbtacks.
Get into the school spirit by decorating your bulletin board with school pennants, pom-poms or other sporty items.
Create a sleek utilitarian board to help you keep track of assignments. If you love the look of cork, have fun with funky thumbtacks, bright post-it notes and colored clips to keep the fun in functional.
Where to Get Bulletin Board Decorations
There are plenty of cool places to get decorations for your bulletin board, whether you are a teacher or student. The following stores carry craft items for bulletin boards:
---
Bulletin boards don't have to be boring, even if they are just plain cork. Use decorations that draw attention to the season or an event. Personal bulletin boards can show off your individual personality, whether you like flowers or pirates. Use a variety of decorative elements to have the most attractive and interesting bulletin boards this fall.