Go Camo to Prom
While a camouflage formal dress is certainly different, you can find many feminine styles that show off your love of camouflage and make you look like a princess.
Click on the 'more details' or 'buy now' link to see purchasing information for any of these dresses.
Sassy Mermaid Gown
More Details"
This mermaid gown is just the right mix of sassy and cute. It features a fitted bodice with a sweetheart neckline, however it's the little details that make the dress stand out. Featuring a lace-up corset back and scalloped edges on the bodice that lead into the full underskirt, this dress will turn heads.
The dress comes in a variety of colors, Mossy Oak, pink and white camouflage patterns and sizes range from 2 to 30. The dress costs around $450.00.
Pretty in Pink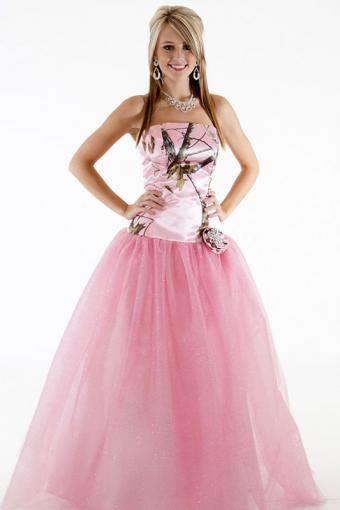 More Details"
Pink camo can add femininity to your ensemble, and the simplicity of this design only adds to the appeal of the dress. This strapless number in pink features a bandeau-style bodice that leads into a full, tulle glitter skirt.
It comes in sizes 2 to 30 and retails for about $495.00.
Opulent Ball Gown
More Details"
Make a statement in this full-length ball gown embellished with a giant satin bow at the waist with a matching satin underskirt. The dress features a sweetheart neckline with a full layered and ruffled skirt for that 'southern bell' look. You can order the satin in a variety of colors and patterns. The bow is removable, so if a giant bow isn't your thing, you're not obligated to wear it.
The dress comes in sizes 2 to 30 and retails for around $630.00.
Snow Camo
More Details"
This A-line dress with sweetheart neckline from Camo Formal is exceptionally customizable. While you can't change the snow camo, you'll have dozens of color options for the fold-over band at the top and the laces up the back (or you can choose to match those to the snow camo of the dress). Keep it strapless or choose from one of five strap options and decide which garment bag you'd prefer. It's available in sizes 2 through 30 starting around $400.00.
Hints of Camo
Buy Now"
If you don't want your dress to be camo from head to toe, this lovely gown pairs camo stripes (one wide, one thin) along the bodice, plus more along the bottom of the skirt, with a white gown and accent color of your choice. Choose from 16 accent colors and get it in sizes 2 through 24 Plus. The lace-up back will accent your curves and works especially well on an hourglass figure, though most body types should be able to pull it off. Expect to pay around $150.00.
Bold Ball Gown Style
Buy Now"
If you want to wear camo and still stand out in a bright, bold color, the Oumans ball gown with halter top may be just the thing. Choose from 16 colors that will make up the majority of the dress, then enjoy the camo on the straps, along the top of the bodice, and peeking out from between larger sections of the skirt in the main color you selected. This gown is available in sizes 2 through 24 Plus for about $100.00. These are made-to-order, so be sure to check the measurements against the size chart and let the seller know if you need any changes.
Pleated Camo
Buy Now"
This dress from Dingzan (around $150.00) goes in a different direction. Instead of using camo as an accent, the whole top layer of the skirt is pleated camo material and the strapless bodice and bottom layer of the skirt act as an accent color to break up the pattern. Choose from colors like blue, gold yellow, purple, red, orange and watermelon. Sizes range from 2 to 26 Plus.
Bubbles, Satin, and Camo
More Details"
What goes better with camo than satin and a bubble skirt style? If you're not looking for a ball gown style and would like something shorter that will be easier to move in while you're on the dance floor, consider this one from Camo Formal (just over $250.00). There are just under 40 top and bottom colors and patterns to choose from and pair as you'd like, plus you have the option to add straps, a lace-up back, and sash (rhinestoned or plain). Sizes 2 through 30 are available.
Camo and Glitter
More Details"
Choose from four camo patterns for the bodice and then decide on a color for your glittering tulle skirt (dresses are made to order). The satin along the edge of the sweetheart neckline matches the skirt. You can have a zippered back, which is included in the price of about $525.00, or you can pay $50.00 more and have a corset back. As if everything about this style didn't already seem princess-inspired, there's even a fabric camo rose at the hip. Get it in sizes 2 through 18.
Almost All Camo
More Details"
The A-line dress with colored band is almost completely camo, save for a strip of color at the top of the fold-over bodice and the lace-up satin ties at the back. Choose from four camo prints and decide on your accent color and then your dress will be created just for you for just under $400.00. It's available in sizes 2 through 18 and should flatter most shapes. Match your shoes to the accent color for a fun twist to the outfit.
Rhinestone Trim
More Details"
This style is similar to the last one, but instead of colorful satin accents, this one has rhinestones along the top edge of the bodice and a zipper that blends in along the back. The same four camo prints are available (traditional olive, brown, white, and pink). Get it in sizes 2 through 18 for around $350.00. Dress it up with more rhinestone jewelry and dainty metallic sandals.
Two Piece Elegance
More Details"
This two-piece ball gown features a one-shouldered bodice that overlays a full, layered and ruffled skirt with a tulle underskirt. You can select a variety of camouflage patterns and the dress comes with a satin sash that you can wear as a belt or side sash to help add a splash of color to the ensemble. This particular dress comes in a wide variety of camo patterns - from Mossy Oak New Breakup to White Snowfall True Timber.
You can also choose your color sash and underskirt, and the look retails for around $570.00.
With a camo prom dress you can choose a dress that is unique as you!