Beautiful in a Corset Prom Dress
The corset prom dress is one of the most popular types of dresses teen girls wear to prom. It enhances two of the features most girls want to accentuate: waists and bosoms.
Shrink Your Waist
Buy Now"
Few garments cinch the midsection and make the figure look alluring better than corsets. The tighter you lace the front of this gothic-inspired, lace ensemble, the smaller your waist looks. Special features include feminine lace overlay, and a tiered skirt. This style comes in four colors and retails for under $30 and comes in sizes small to XX-large.
Lift Your Breasts
Buy Now"
No matter your cup size, corset dresses instantly make your breasts look larger. As you tighten the corset, your chest moves upward, creating cleavage. However, the lavishly ruffled skirt and ruched torso of this orange ball gown balance the bosom and create the illusion of that perfect hourglass shape. It's available in sizes 2 to 26 plus and retails for around $185 to $216 depending on size.
Satin and Bows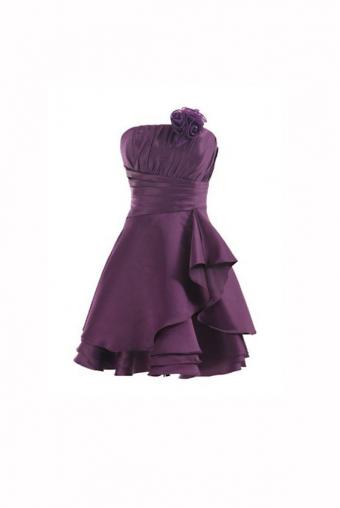 Buy Now"
Look sweet yet sexy in this short, satin prom dress featuring a corset back accented with a huge satin bow, waist-cinching ruching, and asymmetric side ruffles. Choose from 18 gorgeous colors in sizes small to extra large for around $50. This dress runs small so you may want to order one size larger.
Beautiful Backs and Legs
Buy Now"
If your back is one of your most appealing features, corset dresses have a mid-back so your upper back and shoulders are bare for admiration. This thigh-length, blue gown combines the best of both worlds by baring your back and legs in a most alluring fashion and features a semi-sheer lace overlay with a corset-inspired bodice, side-zip closure, and adjustable straps. Choose from sizes XS to XL for under $110.
The Classic Corset Gown
Buy Now"
This floor length dress accentuates your top while it conceals hips, thighs and bottoms. You'll be the belle of the ball wearing this beautiful gown. It features a V-neck, boned corset bodice with tie back, cap sleeves and decorative lace appliqués. Choose from standardized sizes 2 to 26 or have it customized to your exact measurements and color specifications. Price ranges from around $170 to $200 depending on size.
Mermaid Style Corset Prom Dresses
Buy Now"
Not for the faint-of-heart, a figure-hugging, curve-enhancing, mermaid-style gown is a favorite of teens who want to flaunt their figures. This dazzling style comes in two standard color choices or, it can be customized to your specifications. The dress features an intricate lace overlay, corset back, and tulle mermaid flounce. Choose from sizes 2 to 26 plus and expect to pay around $190 to $230 depending on sizing.
Striking Entrance and Exit
More Details"
Look as good entering the prom as you do making your exit in this stunning prom dress. The keyhole cutout on the bodice combined with sparkling beads and sequins and a sweeping A-line skirt will make sure all eyes are on you, while the tightly-laced corset back and glittering embellishments add a finishing touch. Choose from two pretty colors in sizes 0 to 12 for under $280.
Add Some Boho Chic
More Details"
Channel your inner hippy with this sweetly feminine, boho-inspired corset gown featuring spaghetti straps, cutout corset back, and gently flowing gathered skirt. Side ruching adds more waist definition while the sweetheart neckline accentuates the bosom. It's available in one color in sizes 2 to 14 for around $260.
Faux Corset Gown
More Details"
If you are shopping for prom dresses and want the slimming look of a corset gown without the discomfort of boning or lacing, try this corset-inspired prom dress with an eye-catching front zipper and a dreamy, floaty full skirt. It comes in ivory in sizes 2 to 14 but runs small so plan on ordering a size up. Expect to spend around $280 on this strapless full-length gown.