Where to Find Free Prom Catalogs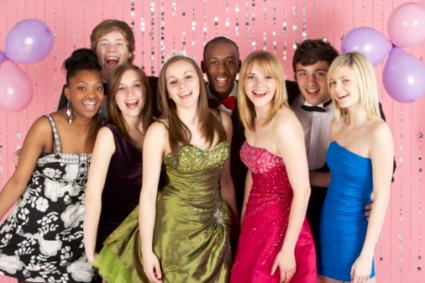 Planning for prom is no small feat. Whether you're on the committee for decorating or just looking for the perfect dress, creating a night to remember takes serious prep work. Having a hard copy catalog can be a big help because you can mark pages for reviewing later, compare items side-by-side and bring the catalog along to show friends and other committee members. Fortunately, many companies still offer free, hard-copy catalogs.
Free Prom Supply, Decoration, and Theme Catalogs
There are many online suppliers for a variety of items that will help you to create the perfect environment for your prom. The companies below not only have an online presence but they will mail you a free catalog upon request.
Stumps
Stumps has been around for years and their experience shows. They offer new themes every year as well as complete kits that will help you transform your space into the theme of your dreams. They even have a DIY section that includes favors and recipes. Stumps also offers free event planning assistance which is a great perk if you have never planned a large event before. Call 1-800-348-5084 or email csr@stumpsparty.com to request your free catalog.
PromNite
With themes like Heaven on Earth, Enchanted Kingdom, and A Little Bit Country, your committee will be sure to find something ideally suited to your prom. They have a lot of offerings and prices range to fit every budget. Order PromNite's catalog online or call 1-800-962-8006.
Anderson's
The Anderson's Prom Catalog is full of great ideas for your prom, offering one-stop shopping for everything from photo backdrops and invitations to coronation props and favors. They offer a wide spectrum of themes and colors. You can purchase a complete package, but they also offer separates to match themes such as decade collections like the 1920s to the 80s, locales like Hollywood and Paris, and even trends like Shabby Chic. Check out their different categories to find something that will make your prom shine.
ShinDigz
You won't go wrong thumbing through a ShinDigz catalog. ShinDigz has lots of categories and they even offer a variety of selfie-photo set-ups, which could be a fun addition to your special evening. To get their catalog just call 1-800-314-8736 or email csr@shindigz.com and make your request. Be sure to check out their free event planning option too.
Oriental Trading Company
Everyone on the prom committee will get a kick out of the Oriental Trading Company catalog when you receive it. They offer a lot of basic supplies such as cutlery, drinkware and paper products, in both patterns and solid colors. In addition, they have lots of fun favor ideas and decorations, which will go a long way to support your chosen theme without breaking the bank.
Catalogs for Prom Attire and Accessories
Do you need a catalog to help you choose a prom dress and accessories? Both smaller boutiques and larger stores still offer mail order catalogs.
Camille La Vie
This store features a huge variety of gorgeous dresses, all fresh and on-trend. Styles range from short to full-length and they offer sizes for a variety of shapes including petite and plus sizes. You can either download or order a hard copy catalog from Camille La Vie and find yourself at the height of fashion. Camille La Vie also has store locations in many major cities.
Simply Bridal
Don't let the name fool you into thinking this store is only for brides. They have an entire prom section featuring stunning gowns with both classic and modern silhouettes in varying lengths and colors at discount prices. Order a catalog through their website. All of their dresses are custom made and take three months to arrive so you will need to plan accordingly.
H & M
If you are looking for something a little edgier, the H & M Catalog has a bit of a European vibe and carries both reasonably priced and some higher end garments that will look great on the dance floor. You can mix and match pieces to create your unique look. They have some fun jewelry too.
Ross-Simons Jewelry
Around since 1952, the Ross-Simons catalog is filled with all kinds of beautiful jewelry. They offer rings, bracelets, necklaces in both single-strand and collar styles, charms, and a host of other classic looking pieces. You are sure to find something to match your ensemble.
Online Prom Catalogs
While there are still some places that offer mail catalogs, many retailers now put their catalogs online.
Prom Decor
Windy City Novelties - Light up the night with Windy City Novelties glow products. Glowsticks, drinkware, necklaces, bracelets and other fun items will step things up a notch on the dance floor. They have a variety of decorations available to match every theme.
Beau Coup - Looking for something different as a favor for your prom? Look at Beau Coup for lots of ideas. From miniature gumball machines and place card holders to goodie bags and boxes, they offer little touches that will make big impressions.
Party Supplies Delivered - Scan through lots of different traditional, current, and unique themes at Party Supplies Delivered. Great if you are mindful of your budget, many items come in multiples for additional savings. The Decorations section under Masquerade has lots of novelties to add a little sparkle and shine to your event.
Dress and Jewelry Catalogs
If you prefer to look online, the following retailers have lots to offer in addition to having brick and mortar stores where you can try dresses on.
David's Bridal - David's Bridal offers contemporary gowns in a full range of sizes, styles, and delicious colors. At David's you'll find several different styles of gowns from designers like Zac Posen, Blondie Nites, and from David's Bridal's exclusive line. They frequently run discount specials so be sure to sign up to receive their emails. David's Bridals also has a nice selection of accessories.
JC Penney - Featuring prom dresses in both junior and junior plus sizes, JC Penney has a variety of fashionable choices in the latest colors and styles from popular labels like My Michelle and City Triangle. On top of that, they have great accessories specifically selected for prom. Penney's also offer men's prom wear including tuxedos and suit separates like dress shirts, ties, and shoes.
Claire's - This store has a wonderful variety of baubles and beads with extremely reasonable prices. Claire's is perfect for adding some sparkle to your prom ensemble without breaking your budget.
Get Ready to Party
From dress to decor, a catalog can make your prom planning almost easy. Make sure you check return policies, plan for emergencies, and give yourself plenty of time to receive ordered items in case you need to return something.