Where to Find Free Teen Clothing Catalogs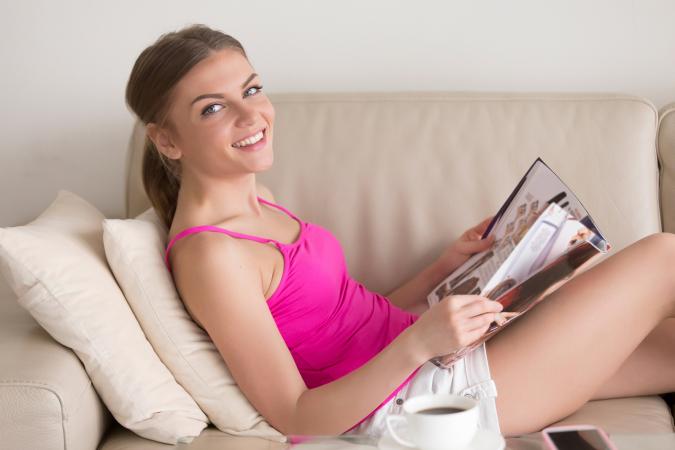 Free clothing catalogs can help you stay on top of the latest fashions. Being able to order from a catalog makes it easy to shop without having to drive anywhere, and if you're hoping your parents will buy some clothes you want as a gift, it's easy to circle or highlight the things you like and leave the catalog out for them to see.
List of Free Teen Clothing Catalogs
Sifting through print catalogs can be fun for teens looking for fashion inspiration. Though many retailers have strayed from printing free fashion catalogs, there are still some that offer this option. Here's a list of stores that offer mail-order free teen clothing catalogs to get you started.
Alloy
Alloy is another clothing catalog that offers teen girl clothes, especially tall teens. While their selection is on the small side, the choice picks make up for it. They also offer extended sizing. Simply fill out your name, email address, and other information. Hit submit and then check your inbox for their latest catalog. You can also access their catalog online.
Anthropologie
Anthropologie offers a wide variety of unusual fashions, especially dresses, for teens and women. Petite options are available from this retailer too. Browse their site or order a print.
Cavalini
Cavalini is a clothing company for the whole family, but advertise themselves as a wholesale clothing outlet for juniors. You can print a catalog from their site. Beware the number of pages before you print.
Delta Apparel
Delta has a very small section of junior clothes, but you can request a catalog. You can also view the catalog online or download it.
East Bay
Get a free East Bay catalog in only a week or two by request. East Bay has a wide selection of athletic clothes for both teen boys and girls.
Nike
Nike offers a host of catalogs for sports apparel, all of which are available for download and printing. Even teens who are not into sports will enjoy the offerings from the training catalog, which features plenty of athleisure wear for teen boys and girls.
Peace Frogs
Peace Frogs merchandise includes comfortable clothing, like sweats, loungewear, T-shirts, casual dresses and more. If you love tie-dye, this is the place to shop. If you're not a huge tie-dye fan, it's still worth a look. Who doesn't love smiling tree frogs and peace signs?
Tilly's
At Tilly's, you'll find comfortable, fashionable pieces that you can dress up or down for a variety of looks for boys and girls. Get clothing, swimwear, shoes, and accessories for teens and young adults.
Title Nine
If you're an active teen, check out Title Nine. Request a seasonal catalog featuring active and outdoor clothing. The request form is standard, but this company's return policy is unique. They allow full refunds up to one year.
Online Catalogs
While the above stores still offer free paper catalogs, things are changing. Many stores are cutting costs by opting to offer online catalogs rather than offering traditional catalogs.
Free People
Browse through a number of current and recent catalogs at Free People. Free People strives to offers a nice mix of urban vibe with casual elegance for today's young lady.
Justice
Featuring sizes up to a youth size 20, Justice offers colorful and trendy fashions for teens. Search through their current catalog. page by page. You can view thumbnail versions of the catalog, for quick browsing, by clicking the icon in the upper left corner.
Lester's
Lester's is a clothing store out of New York that offers the hottest teen fashions. Check out their online catalog for their latest offerings.
Torrid
Trendy plus-size fashions from Torrid are available for review via Torrid's Look Book/catalog. Torrid allows plus-size teens to buy trendy clothes they may not find elsewhere in their size.
Wet Seal
Wet Seal is an apparel company from Southern California offering clothing options for teenage girls. Their online "Look Book" offers complete looks from their most recent collections.
Catalogs Make Shopping a Breeze
If you don't have a car or your parents are too busy to take you on a shopping trip to all of your favorite stores, just order a catalog, consult the size chart, and order a new top or outfit. Catalogs make it easy to get the styles you want without the inconvenience of traveling miles to get to the perfect store. If you don't particularly enjoy trying on clothes in a dressing room, you'll get the bonus of being able to try everything on at home and send back whatever doesn't work. If you're a trendy teen in a not-so-trendy place, catalog shopping will keep you ahead of the curve, too.