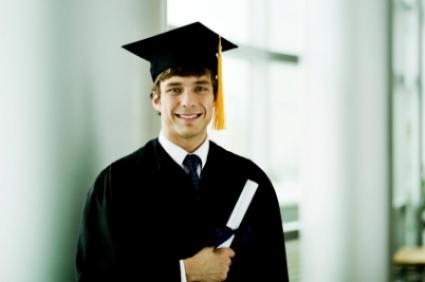 From serious and sentimental to humorous and fun, graduation sayings exist to fit whatever message you want to convey to a graduate. You can use graduation sayings as part of a special graduation speech or to add to a card, scrapbook, yearbook, graduation cake or gift for a middle school or high school graduate.
Graduation Quotes for Daughters and Sons
Religious Inspirational Sayings
Short Sayings for Yearbooks
Motivational Graduation Messages
Humorous Congratulations Sayings
Original Sayings and Wishes
Want a saying that is unique and has never been heard before? Use these in a graduation speech or quote.
Preschool/Kindergarten Graduates
You've learned your ABCS and your 123s. The rest of school will be a breeze.
You're a little graduate and we're so proud of you. Now it's time for you to head to the big kids' school.
You've learned to read your favorite rhymes and count from one to ten, but now it's time to say goodbye to kindergarten. First grade, here you come!
She may be little, but she be a preschool graduate.
We love our little graduate and we just want to say how very, very proud we are on your graduation day.
8th Grade Graduation Sentiments
You've crossed the bridge of middle school. Now off to high school you go.
No longer a little boy, you've grown into a man. You're moving on from middle school with a diploma in your hand.
You've gotten through the middle and now you're on the top. It's time to head to high school and show them all you've got.
Three years ago you were our little girl, but today she is no more. Instead standing in her place is a graduate we adore.
You've graduated middle school. You're more than halfway done. Only four more years to go. The fun has just begun.
High School Graduates
This little girl is all grown up and now she's college bound. We can't wait to see her use the knowledge that she's found.
On your high school graduation, I'd like to stop and say, how proud I am of how much you've done to become who you are today.
Just yesterday you were in the nest, just learning how to fly. Now it's time to spread your wings and head for the sky.
It has been four long years, but now the day has come. Your life is just beginning as your high school days are done.
For years you've dreamed about this day and now it's finally come. Buckle in and hold on tight, your life has just begun.
What to Write in a Graduation Card
Although there are lots of quotes about graduation, the most meaningful may be a phrase or saying you come up with yourself. If you're writing a letter or card to a special grad, what was a piece of advice or a bit of inspiration you wish someone would have shared with you when you were a graduating high school student? For sentiments about education and commencement, take a fresh look at the event of graduation itself and note what strikes you as special about it. For tips on writing your own as sayings pertaining to graduation:
Congratulate the graduate on his hard work and any specific accomplishments he achieved. You can't go wrong with heartfelt wishes.
Offer a piece of unique advice.
Write a series of inspirational words or phrases with bullets or periods in between for emphasis (i.e. Believe. Dream. Always be your best...).
Write a saying about the gifts the graduate has, and what you appreciate in his or her personality.
Share special religious or Bible verses or personal mottos with the graduate.
Offer a saying about the insight you've gained on facing difficult circumstances. Begin with a saying such as, "Going to college/ pursuing your career/ going out on your own/etc. may not always be easy, but one thing I've learned when going through difficult times is..."
Whether you decide to use a famous phrase or a personalized saying to express graduation sentiments, memorable graduation quotes can play an important role in celebrating this culmination in education.