High School Graduation Poems
Whether you're about to graduate yourself, or you're just looking for a poem to express your sentiments to a special graduate, the following poems and additional resources offer some very nice options. All the poems in this are original poetry by the author, Kelly Roper.
Take a Moment
As Pomp and Circumstance serenades you down the aisle,
Take a moment to contemplate how you arrived at this moment.
Remember the help your parents gave and the sacrifices they made.
Spare a thought of gratitude for the teachers who were willing to explain things one more time.
Be thankful for the friendships you've made, the life lessons you've learned, and all the experiences you had - the good as well as the bad.
They've shaped who you are today.
As the strains of Pomp and Circumstance guide you down the aisle toward that stage,
Realize you're not just heading toward your high school graduation, you're stepping into your future.
Your Day Has Arrived
Graduation day is finally here,
And so now ends your high school career.
Always remember the friends you hold dear,
And look toward your future without any fear.
This is the day you've been preparing for
Since the day you walked through that first classroom door.
Now it is time to say goodbye,
And spread your wings - you're ready to fly.
So shed a tear and share a smile,
And be sure to remember all the while,
That although it may now be time to move on,
Today's memories will last your whole life long.
Now Is the Time to Dare
Dare to jump into your future with enthusiasm.
Dare to place no limits on what you hope to accomplish.
Dare to dream big and realize it's not just a cliché.
Dare to bring excellence to everything you do.
Dare to succeed beyond your wildest expectations.
My Cap and Gown
When I thought about my graduation,
I was never sure how I would feel.
It always seemed like a far off dream;
Putting on my cap and gown just made it real.
We're all lined up in the hallway,
And the orchestra is beginning to play.
It's time to get this show on the road;
The next stage of our lives begins today.
High School Memories
Classroom bells and noisy halls,
Watching the clock as last period crawls,
Getting a demerit for talking in class,
Trying to remember where you left your hall pass.
Rooting for your team at a big football game,
Hoping the teacher would not call your name,
Studying for tests trying to get higher scores,
The echoing slams of the hall locker doors.
Pep rallies, homecoming and class elections,
Trying to decide next year's course selections,
Pondering the source of the lunch room's mystery meat,
Choosing lab partners and changing your seats.
Some of these moments may seem rather small,
But it's the little things that you'll remember most of all.
So put on your cap and your gown and stand tall,
It's graduation day, so savor it all.
Graduation and Possibilities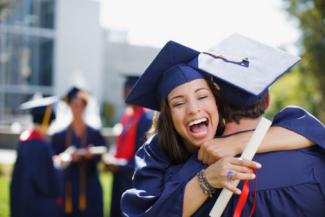 A time for goodbyes
A time for fresh beginnings
A time for remembering the past
A time for looking forward with hope
A time for taking stock of life so far
A time for celebration
A time of infinite possibilities...
Sign My Yearbook
Our time together is almost finished,
But I want to remember you, my friend.
Will you please sign my yearbook
Before we march to our graduation's end?
I saved a spot for you right here
on the inside of the front cover.
It's a special spot I'll always see first,
And it could belong to no other.
So write a joke or something thoughtful -
Whatever's in your heart.
I'll read it and remember the fun we had,
Even though we'll be miles apart.
Graduation Feelings
Excited and scared,
Hesitant, but committed,
Filled with joyful hope.
Shorter Verses
If you're looking for shorter verses about graduation, consider the following.
On This Day
On this day,
We honor the memories,
We honor the past,
And we look to the future.
I Remember
I can still remember learning to tie my shoes
And taking the school bus on my own.
Now I am a high school graduate,
And I want to thank those who helped along the way.
Those who helped teach me to walk
And to grin and bear.
Thank you for all of your love and attention.
I hope to make you proud.
Graduation Day
Graduation has come.
Graduation is here.
We're so glad to greet this day,
And we hope you'll join us there.
Thankful for This Time
My future is my present,
My past is flying by.
My dreams are all coming true,
And I'm thankful for this time.
Friends Until the End
Now that we have graduated,
The world seems infinite.
Everything is changing one second at a time,
And I can't seem to find my next step.
No matter what, I'm thankful for my friends.
They've been here since the beginning,
And they will be here until the end.
Writing Poetry
While you can use graduation verses already written by someone else, they are also good to use as inspiration for writing original poetry. In addition to catering to the feelings you want to describe, writing your sentiments for graduation can personalize the experience. When writing graduation poems:
Think of personal experiences you'd like to focus on. For example, if you're using the verse for a close friend, think of a time the two of you spent together and use the verse to honor that.
Some graduation verses cleverly state the date and time of the party. It is perfectly acceptable to tell the date and time of the event and a little more.
Don't be afraid to write something so you can see what it sounds or looks like; you may be surprised how something you don't think will be good actually ends up being perfect.
More Sources for Graduation Poems
Need more ideas? Check out the following sites:
Poems for Free - Author Nicholas Gordon offers a collection of graduation poems that are free for private use. According to the site, this includes any personal or non-commercial purpose, which means you can't include the author's work on any item that is for sale.
Poem Hunter - You'll find dozens of graduation poems to sift through. They're written from different perspectives, including parents and the graduates themselves. Be sure to read Graduation Day by Joseph T. Renaldi.
Poem Source - You'll find a variety of graduation poems here, but not all are geared to high school graduations. Some of the selections you might want to consider include Bright Future, Always Be a Student, and Wishing, Hoping, Knowing.
Using Poems
Whether you're using a poem to express sentiments or create a one-of-a-kind gift, your thoughtfulness is sure to be appreciated. This special day is the end of one chapter with all the promise and possibilities of a new chapter in life. Celebrate it with feeling and a sense of accomplishment.