What to Wear to a Homecoming Dance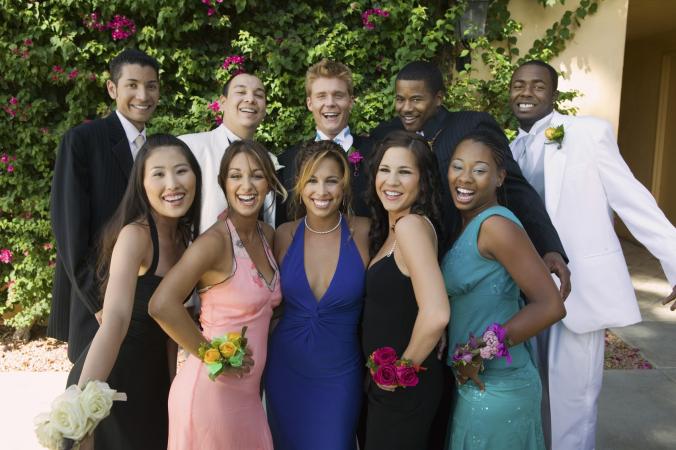 It's time for your homecoming dance; what to wear is not the only thing you think about! Well, have no worries because we've pulled together the most fantastic dresses on the planet and some great tips for the guys; all of which will leave you feeling spectacular!
Tips for the Guys
Guys, this is one formal occasion when you can definitely count yourself in on the mix, and you are going to want to look every bit as great as your date! When it comes to figuring out- it's homecoming- what to wear; here are some tried and true rules to help you look great:
Decide on whether you'd like to wear a tuxedo or not.
Some schools have restrictions on what is appropriate for homecoming, but for the most part, it is expected and appreciated when a guy turns up in a tuxedo.
Talk to your date and get a sense of what she is wearing. Usually, the two of you can match a bit (usually by way of a cummerbund), but don't take matching to the extreme; instead of looking chic it may just look silly.
Be on the same level of glamour.
This means that you and your date should match the same level of formalness or lack of formalness. If you date is in a ball gown, it may not be appropriate for you to show up in a sports coat. The reverse is true if she's in an avant garde slip dress, and you're in a tuxedo. You and your date should present a united front, and this is one great way to do that without saying a word.
Try some of these online sites to find the tuxedo that's right for you:
Homecoming Dance: What to Wear Now
There was a time when you could only wear one type of dress to a homecoming dance. You know the type. They were usually cookie-cutter ball-gown cuts; heavy on the frou-frou but low on personal style.Thanks goodness times have changed! Now, instead of reams and reams of pink fabric, you can actually wear a body hugging silhouette without having tongues wag. But before you head out there and purchase that hugging, barely-there slip dress, let's take an important look at differing body types, and how it may impact your dress choice.
Know Your Body Type
Have you ever flipped through the pages of a fashion magazine and spotted a look that looks absolutely darling on a supermodel, only to find that it just doesn't work with your body type? Well, it's exactly the same way with dresses. Combat this by first determining your body shape. There are a lot of contradicting facts out there (pear shaped? Apple shaped? Who can tell the difference?). In the effort to alleviate this fashion confusion, here's a descriptive chart to help you determine exactly what category you belong to.
Body Types

| | | |
| --- | --- | --- |
| Frame | Description | Best Way to Dress |
| A Frame | *Usually bottom heavy *Possible small bust *Tends to carry weight in the upper thighs. *Usually not thick in the waist size. | The goal with this type of shape is to balance out the hips by widening the shoulders. |
| V Frame | *Shoulders are two or more inches wider than the hips. *Usually has a large bust *Very narrow hips *Thin legs | The main objective here would be to widen the hips with a full and heavier dress material. |
| H Frame | *An average to large waist. *Usually has an athletic build *Has a straight up and down shape. *Occasionally the shoulders are broader. *The derriere is not prominent. | This is an affordable look at just $69.99. |
| 8 Frame | *Usually of average height with an average size bust. *Hips and bust are the same size. *Waist is up to ten inches smaller than both bust and hips. *Normally gains weight all over. | With this frame, the goal is to emphasize those womanly curves! This can be accomplished by cinching the waist, and if you are on the large size of the 8 frame, keep your dress simple and flowing to look best. |
| Oval Frame | *Is short to average in height. *Usually has a large bust. *Waist is rounded, while you ten to gain weight in the middle area of the body. *Legs are thin. | If this is descriptive of you, then the goal is to de-emphasize your waist. Consider A-symmetrical cuts (dresses on only one shoulder) to look your best. |
Tips for the Girls
Armed with your knowledge about your body type, you are now ready for your homecoming dance and have the knowledge to choose the perfect dress. Now, let's take a look at some of those fabulous dresses! Note that all of the dresses sited below can be found at PromGirl.com, in the "homecoming dress" section.What's truly great about this site is the diverse collection of dresses they have and the way they break the dresses up into distinctive categories. For example:
In this category, you get to purchase dresses that are replica's worn by some the hottest stars in Hollywood, like Misha Barton. This Misha Barton dress (it is indeed called that), is a stunner! Its long lines keep it formal enough for homecoming, but its cris-cross strappy back and snug fit keep's the look young and fresh. The best thing about this look? At $99.00, it just may be its price!
The Print Dress section is young, fun and flirty. Take for example the Kitty 4577 Tube Dress. This strapless, short number is available in several colors, including brown, purple, black and blue, and its delicate embroidery makes it a winner! You care going to love this sophisticated, yet flirty chiffon concoction. Additionally, this dress is a virtual steal at just $79.00.
The Strapless Knee-length Dress is an absolute winner! This gorgeous dress, available in either white, or black, features a ribbed bust line, a black tied waist, and a fresh, young finish. You can purchase this look for $112.00.
If you prefer the ball gown look, or if you are in the running for Homecoming Queen, then this category may be perfect for you. The La Femme ball gown dress is not your typical pink number!
Even though this is a pink dress, it's done more in the style of Gwen Stefani's memorable wedding dress than pretty little pink princess. The gown is done in two shades of pink; an almost violent shade of pink along the bust line and on the fringes, and in amore subtle, sweet shade of pink folded on top.
What really makes this dress amazing is the weaving of apricot-colored layers into the fabric. As if that wasn't enough, the entire look is topped off with an embellishment of gold, wine-like appliqué vines. This is truly one of the most gorgeous dresses out there, and as you can imagine, because of the all intricate beading, it's a bit more expensive at $398.00.
Finally, we come to the last categories available at this online site. These categories include:
Plus Size Dresses
Cocktail Dresses
Best Sellers
Sexy Styles
So how do you answer the question, homecoming dance- what to wear? Why, by having fun shopping and getting ready to look gorgeous!