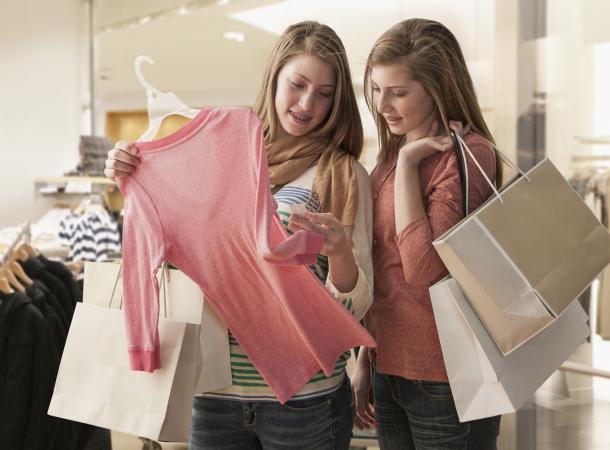 If you want to stay at the head of the class when it comes to fashion, you have to rock the latest trends. Luckily, it's easy to find trendy fashion in a variety of styles when you shop the hottest teen clothing brands. Check out the brands that consistently measure up to the distinguished tastes of teens.
35 of the Hottest Teen Clothing Brands
Popular clothing brands for teens offer teenage apparel styles for boys and girls that offer trendy clothing with fresh, young, and fun styling. There are many popular teen clothing lines.
Adidas
Well known for their shoes, Germany-based brand Adidas also sells sporty jackets, shorts, pants and T-shirts that'll please the jock in any teen boy or girl.
American Eagle Outfitters
American Eagle Outfitters is a reasonably priced US clothing brand found at most malls around the country. Teens from international countries can also expect to find classic, casual and modern apparel at American Eagle online.
Billabong
Originating in Australia, Billabong focuses on surf-inspired clothing; however, you don't have to be a surfer to enjoy their casual, beach-ready style.
Brandy Melville
US brand, Brandy Melville, is vastly growing in the international teen girl fashion market. Inspired by Los Angeles, teen girls in the US and Europe will find lots of trendy fashion clothing and accessories at their online store.
Charlotte Russe
Charlotte Russe, based in the US and Canada, always offers plenty of fashionable, cool clothes for teenage girls and boys. This popular brand provides the hottest fashion trends at the lowest prices.
Cotton On
Australian brand, Cotton On, now has 1,200 stores in 12 different countries. They stock trend-driven fashions, as well as quality basics, at affordable prices.
Dickies
Long a favorite for work uniforms, US-based brand Dickies is the non-mainstream answer to jeans. A pair of Dickies pants is a staple in punk clothing.
Diesel
The Diesel brand is most known for its jeans. The company, based in Italy, also creates exclusive footwear, watches, and sunglasses with an online store that ships worldwide.
Express
US brand Express offers trendy clothing in standard and petite sizes at reasonable prices. Their stores can be found in just about any mall in the US, but their online store ships exclusively to the US and Canada.
Forever 21
For teens who don't want to spend a lot, but want to stay current with trendy fashion statements, US brand Forever 21 is the place to go. They ship all around the globe, and even stock inexpensive prom fashions in the spring.
Gap
Gap offers classic, well-constructed attire that has been popular with the teen crowd in the US for years. If you want to invest in a few fashion staples that will last, definitely check out the Gap's international store online.
H&M
German brand H&M offers the latest trends and styles in teen clothing worldwide for affordable prices. That includes outerwear, shoes, casual looks and formal pieces, as well as bags and accessories.
HOTKISS
HOTKISS is a hot brand for teen girls in the US only. The line includes casual and dressy looks in the latest styles, and it's available from popular retailers like Alloy and Wet Seal.
Hurley
The Hurley brand is based on skateboarding and surfing styles straight out of California. It's also popular among BMX and motocross fans, thanks to team sponsorships, and is now sold worldwide.
Jack Wills
For teens who want stylish, quintessentially British casual wear to throw on outside of school hours, Jack Wills is the UK-based brand to try. Their online store currently ships to the US, Europe and Hong Kong.
Levis
Known as the king of denim worldwide, US-based Levis is a popular jeans brand with teens situated all around the globe. They offer quality denim in different cuts, styles and colors, and show no signs of going out of style.
LisaBerck
When prepping for a big night like Homecoming or Prom, the jewelry a teen girl chooses can make or break her outfit. LisaBerck offers beautiful and youthful necklaces and earrings, in addition to handbags and shoes, in the US only.
NEXT
NEXT is a UK-based retailer that offers high quality fashion, basics, and footwear for both teen boys and girls. Their online store now ships to 72 countries worldwide.
New Look
New Look has a designated clothing line for teens where they can easily access trend-driven fashion at low prices. They are primarily based in the UK, but their online store ships internationally.
Nike
US-based Nike is an enduring brand. It's popular worldwide with both those looking for high-performance gear when playing sports and teens just aiming for a sporty look.
The North Face
Known for its outerwear and outdoor sports clothing, The North Face originated in San Francisco. Their performance clothing, equipment and footwear is popular with both teens and adults internationally, and their online store ships to 33 countries around the globe.
Old Navy
US clothing brand Old Navy is Gap's younger, more affordable sister. Their online store offers plus size and slim sizes for both teen boys and girls worldwide.
PacSun
PacSun is the original surf-inspired clothing line from California. They offer casual clothing, sandals, jeans and accessories - and now ship internationally for teens all around the globe.
Primark
Primark is an Irish company that offers clothing, footwear, accessories and home goods. Primark's tagline is "Fashion for Less" and it's particularly popular with teens due to its low price positioning. Primark doesn't sell online and only has physical stores in Europe and the US currently.
Pull&Bear
Part of Inditex who also owns Zara, Spanish brand Pull&Bear is a popular choice for casual wear worldwide. With everything from shirts to handbags, there's something for every trendy teen boy or girl.
River Island
UK brand River Island sells clothing, footwear and accessories to teens based internationally. Their price points are slightly higher than the average clothing store, but the quality of the goods reflects this.
Roxy
US brand Roxy offers clothing with a casual, summery feel for teen girls. Roxy is an offshoot of the Quiksilver line, known for its surfer style, and is now sold in many retail locations internationally.
Rue 21
Rue 21 is aimed at American teen boys and girls and have a number of stores situated in the continental US. Their clothing is inspired by the latest national trends with plus sizes also available.
Stradivarius
Spanish brand Stradivarius can be found in over 60 countries globally as well as online. They're aimed at young, fashion-forward men and women who shop according to the latest trends.
Superdry
UK-based brand Superdry delivers clothing with an American vintage feel and Japanese-inspired graphics. They offer casual basics, as well as sportswear, that are unique.
Topshop/Topman
Topshop and Topman are both UK brands a part of the same company. They focus on high quality, trend-driven clothing, footwear and accessories, and are popular with teens and adults alike.
Under Armour
For international teens who live in sportswear, US brand Under Armour is a popular choice. It's available both online and in store, in a wide variety of fits, cuts and styles.
Urban Outfitters
US brand Urban Outfitters provides urban fashion styles for the teen masses worldwide as well as apartment and dorm furnishings.
Victoria's Secret PINK
Victoria's Secret PINK is a teen-specific line of intimate apparel, sweatpants, T-shirts and accessories that has become a staple among high school and college students in the US. Their online store now also ships around the globe.
Zara
Spanish brand Zara, part of Inditex who also owns Pull&Bear, is a popular mall destination for teens around the globe. They offer the latest fashions in everything from T-shirts to footwear.
Cool Clothes for Teen Girls and Boys
Fashion changes constantly, and today's hot jeans, purses, or shoes will be shoved to the back of the closet tomorrow. Keep that in mind the next time you're tempted to spend your entire paycheck on a pair of jeans or whatever style is hot this moment. Trendy teen clothing can be fun and stylish, but it's the classic styles that will stand the test of time.