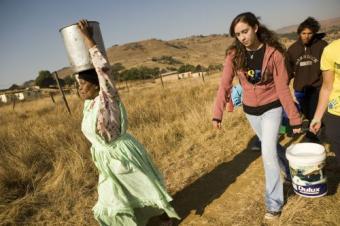 LoveToKnow Teens had an opportunity to do an interview with HERO Youth Ambassador Kelly McCann. Kelly was a 2008 Youth Ambassador in Africa. Learn how she made a difference for people in another country and how you can be a part of this exciting program too!
Interview with HERO Youth Ambassador
What is the HERO Program?
The 2008 HERO Youth Ambassador Program is an annual campaign of the United Nations Association of the United States of America (UNA-USA). This year, 20 teens from across the U.S. and Canada were chosen to travel to southern Africa and Namibia, to work on building a school-based community for children living in HIV/AIDS affected communities. Over the course of six weeks, we worked with three different communities on projects such as building housing, putting up fencing, and painting schools.
How did you hear about the program?
I heard about the HERO Youth Ambassador program through a teacher at my local high school, Townsend Harris High School. My teacher read about the program through information she saw in CosmoGIRL! magazine and brought it to my attention. I couldn't wait to apply!
What things interested and inspired you about this program?
I am interested in traveling and had always dreamed of traveling to Africa. Also, I had been an HIV/AIDS peer educator in my school and I am very passionate about HIV/AIDS awareness and education. Since I knew the children we would be working with were affected by this epidemic in some way, this program seemed like the perfect opportunity to help as well as the opportunity to travel at the same time.
What did the application and interview process involve?
The application called for a short essay that asked me about my background and the type of volunteer programs I previously worked with in addition to two letters of recommendation. After reviewing my written application, I was selected as a semi-finalist and was interviewed by HERO staff, so they could get to know me personally and make sure that I was the right fit for the program
What types of things did you get to do in the schools while in Africa?
While in Africa, we worked on hands-on projects funded by Protecting Futures - a comprehensive care program by Tampax and Always dedicated to helping vulnerable girls in Africa stay in school. We worked on projects such as building housing, putting up fencing, painting schools, teaching English classes, and painting murals in kindergarten classes. While it was tiring, I always felt a sense of true pride and accomplishment at the end of each day. The Youth Ambassadors made a great team. You can even watch footage of us in action on Webisodes airing on Beinggirl.com this fall.
What was your overall experience like in Africa? Would you do it again?
My overall experience in Africa was incredible. It is hard to put into words the things I learned and felt while spending time there, and possibly even more difficult to describe my feelings upon arriving home after learning about such a different place. I think the best way to explain my personal experience would be fulfilling and cleansing. I was taken out of my everyday environment and thrown into another culture, where I not only learned about new beliefs, thoughts, and conditions, but I also was given the time to reflect on my own thoughts. After this experience, I am far more grateful for all that I have and I view the rest of the world through a new perspective that is much broader than before. This experience certainly made me a better and more thoughtful global citizen. I would do it again in a heartbeat - it was the best experience of my life!
What was your biggest accomplishment while working in Africa?
My biggest accomplishment in Africa was developing friendships within the San community of Namibia, working alongside the community members and spending time playing with their children. Seeing the 20 houses slowly go up day-by-day and knowing that I was able to make a real difference and help them was a great feeling.
If someone wanted to be a part of this program, what should they do?
If someone wants to be a part of this program and is interested in becoming a 2009 Youth Ambassador, they can visit Heroaction.org for more information. Webisodes that captured our on-site experiences this summer will also be available to view this fall on Beinggirl.com
You are also an AIDS/HIV peer facilitator and educator at your school. How did you become one of these facilitators and what type of activities do you do while working in this capacity?
I became an HIV/AIDS peer educator through a program at my school affiliated with a nearby hospital offering training and AIDS education. After attending a few weeks of classes, I was able to spend AIDS day in Townsend Harris walking around to several classes, running educational workshops on AIDS, sex, and other related issues. I also facilitated open discussions to dispel myths about HIV/AIDS. I think AIDS day and being an HIV/AIDS peer facilitator is important, especially for underclassmen, because it is a touchy subject that is not often openly discussed, therefore questions remain unanswered. Hopefully, AIDS day answers some questions, which lead to a more educated student body and smarter decisions.
With all of these great experiences under your belt, what are your plans for the future?
I am currently a freshman at SUNY New Paltz. I plan on majoring in International Relations and joining the Human Rights club. I hope to join the Peace Corps after graduation, but right now I'm just doing what I can to spread awareness about what I experienced and learned this summer in Africa.