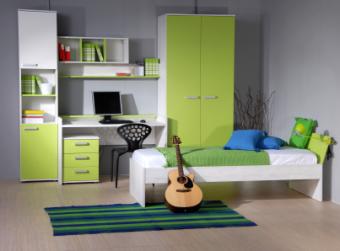 Organizing your bedroom will help create an inviting, comfortable space to hang out, relax, do homework and have fun with friends. The first step to organizing your bedroom is to create a list of what functions and features you want in your room. Divide the room into zones according to the activities you do there. For example, you might have a sleeping zone, a studying zone, etc. After the room is divided into zones, decide what kind of space and furniture you need for each zone. Once you have it planned out on paper, picking furniture and accessories will be a breeze.
Sleep Zone
Take advantage of furniture that's multi-functional in order to save space, especially when it comes to beds. Loft beds offer a compact bed and work area. Storage headboards can replace plain headboards to give more storage and shelf space.
Loft Beds
There are many configurations of loft bed and desk combos. Some even offer a second twin bed for sleepovers. This furniture is compact and can fit neatly on one wall or a corner, giving you much needed floor space for other furniture and zones.
Murphy Bed
A Murphy bed disappears when you aren't using it. All you do is lift and close the bed into the wall unit. Some models come with a desk that is exposed once the bed is closed up. This type of system makes your entire room available for other furniture and activities when you're not sleeping.
Futon
There are all styles of futons available. Some higher-end designs use a standard be mattress. Use it for a couch and lower the back to make it into a twin, full or queen size bed.
Beds with Built-In Storage
Beds with built-in units give you storage drawers underneath the mattress. This is a great way to utilize what is typically wasted space underneath the bed frame.
Daybeds
Stylish daybeds can double for extra seating. Choose one that has a pullout trundle bed for sleepovers.
Double-Duty Nightstands
If you use a free-standing bed, add a nightstand with drawers and shelves and make sure the table lamp is easy to turn on and off while in bed. Make lighting fun with a clap on light switch so you can turn the lights off and on with a simple clap of your hands.
Study and Work Zone
This is a zone you'll use almost every day, so make sure you select comfortable furniture and organizers that will help reduce clutter and make finding your supplies easy.
Desk
Select a desk wide enough to provide ample work surface.
Choose a desk with sufficient drawer space for storing supplies.
Use office desk organizers for folders, pen and pencil caddies and tray drawer organizers.
Chair
Select a chair with adjustable height and back tension controls.
Choose a chair that offers lumbar (lower back) support.
Rollers on the chair gives you greater flexibility for long-term sitting.
Opt for easy-to-clean fabric, vinyl or plastic finish.
Task Lighting
Choose a task lamps with adjustable height and angle for school project work.
Use a table lamp with a 3-way bulb is ideal for adjusting light needs.
Select lamps with shades that have a larger bottom diameter than top for directly light down onto your desk.
Shelving
Floating shelves don't have visible support or brackets. Add one or more above your desk for books and other items.
Makes shelves out of crates, plastic or wood boxes ad mount onto the wall.
Place a bookcase or shelving unit beside your desk for easy access.
Relaxation Zone
You want to be able to enjoy living in your room. This means you need a zone where you can relax, play games, read and just hang out with your friends. If you have a large room, then you can designate one corner just for these activities.
Select a loveseat or two chairs to place in one corner of your bedroom if space allows.
Futons can be used as a couch and an extra bed for sleepovers.
A small area rug serves to separate this zone from the rest of your bedroom.
If your bedroom is small or a standard size, then you have enough floor space for a few pieces of furniture. Add a few fun pieces:
Gaming chairs, bean bag chairs or floor pillows are a must for avid video gamers.
Floor lamps are great space savers and will give you extra lighting for reading time.
Place a small chair, table and lamp by the door for a cozy reading area.
Dressing Zone
While a dressing area isn't a vital zone, it certainly can be a fun and useful one! You don't need a lot of space to create a dressing area or dressing nook. Try to locate this area beside or near a window to take advantage of natural light.
Add needed storage space with a wall unit or armoire.
Use a corner vanity that doesn't require much space. Add a lamp, chair and mirror.
Place a folding screen to block off your dressing area from the rest of the bedroom.
Repurpose a bookcase for a shoe rack.
Use a rolling clothes rack for your favorite outfits and store in this area for fast access.
Add a storage ottoman for needed storage and seating.
Storage Solutions
One of the best things you can do to keep your bedroom uncluttered and organized is to have ample storage space. You have quite a few options when it comes to organizing your storage space.
Closet
Install premade shelving units in your closet.
Use baskets on shelves for your shoe storage.
Install two short rods for tops and pants.
Use vacuum-sealed storage bags for out of season clothes.
Plastic boxes can organize small loose items and be stacked on closet shelves.
Label box ends for easy identification of contents.
Organize clothes by color for quick fashion decisions.
Paint an old bookcase and use it in the closet for deep shelving solutions.
Creative Storage Ideas
Be creative when thinking about storage solutions. Try something different or new that complements your bedroom decor.
Add storage bench at the end of your bed for additional seating as well as storage.
Choose a wood bench with a colorful cushion and basket storage on the shelf beneath.
Add style with an upholstered bench and hidden storage compartment.
Stacked decorative hat boxes are great for storage and adding flair to your room.
Decoupage boxes make great jewelry boxes. Use different shapes for added fun designs.
Old shoe boxes covered in colorful wrapping paper transform into storage boxes.
Yard sale tables with drawers or chests get a new life with a coat of paint for one-of-a-kind storage creations.
Corkboard or a cloth-covered board with criss-cross bands can be mounted over your desk to store notes, photos and other keepsakes.
Use a drawer organizer to divide and group clothing and other items.
Wall organizer with mirror, drawers and pegs for coats is a great way to conserve space.
Install a small wall cabinet over your desk or other work area.
Go mobile storage with canvas bins and decorative storage carts.
Try a swivel storage tower complete with mirror and cork bulletin board.
Install a peg rack for extra storage for jackets.
Hang a full-length mirror on the back of your bedroom door instead of using valuable wall space.
More than Just Functional
While it's important to be organized and to be able to find what you need easily, it's equally important that your bedroom design reflect who you are. Add your own style to your well-organized room. Your personal taste and likes can be easily displayed with the furniture style you select, the colors you use and the types of motifs, patterns and textures you choose. If you're artistic, paint your shelves and add some flower stenciling for a flair of the unexpected. Decorate your walls and hang some truly glitzy draperies or beaded curtains. Your bedroom's design should make your room a haven and fun place to call your own.