80s Prom Dresses Are Back in Style
Whether you love the styles of the 1980s or your prom has an 80s theme, this slideshow of 80s prom dresses is sure to inspire you! Take a trip back in time and learn a little about the era many of your parents went to the prom in. For example, you can wear this hot red devil. With the classic puffy sleeves and the gathered waist, this dress is classic 80s style.
Sweet Sweetheart Neckline
This dress is an excellent example of the 80s style. Strapless, sweetheart necklines showed up on party dresses again and again. Multicolored patterns were common and have popular ever since.
Rouched and Ready to Dance
This dress shows off one major trend of the decade - rouching. A knee-length, strapless dress flatters many figures and looks festive and young in a nice, bright purple. Pair it with some chunky 80s jewelry and you're ready to go.
She's a Peach
This off-the-shoulder style dress was very popular in the 80s as were pastel colors like this sweet peach shade. The rosette at the center of the bodice and subtle "V" shape at the waistline are also indicative of the decade.
Major Metalics
The 80s emerge here in the bold green metallic fabric of the dress and the voluminous ruffles of the skirt. She looks happy and confident in a festive dress that is age appropriate and never stuffy. The strapless look was perfect 80s wear.
Pretty in Pink
Re-live the classic 80s prom movie Pretty in Pink by wearing a flirtatious pink frock. This dress is more modern than the one Molly Ringwald wore in the movie, but the theme comes through.
Anything Goes Makeup
Again, the inventive makeup trends of the 80s show up. She matches the color of her bright purple satin dress with a purple eye shadow. More importantly, her unique makeup reflects the attitude of the 80s that anything goes.
Get a Total Vintage Look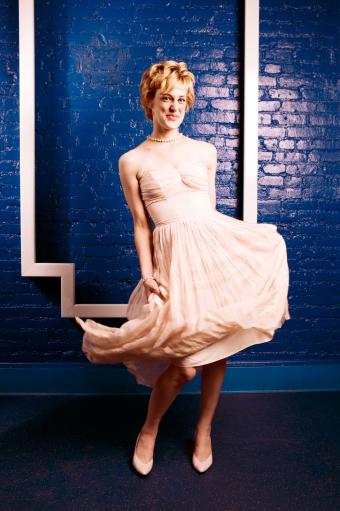 Another example of a dress that is pretty in pink, this one is more classic and vintage. This look is head-to-toe vintage from her matching pumps to pearl necklace. When capturing a decade, don't be afraid to go all-out.
Feel Like a Queen
A dress like this could win you the prize. Be Prom Queen in a short, strapless dress in bubblegum pink. The rouching and multi-layered skirt are big trends from the 80s.
All that Glitters is Gold
The glitz of gold reflects the excess of the decade. Rouching comes back again here in this longer, more formal, but incredibly flattering dress.
Matching Dress and Jacket
One retro style that will really bring you back is to wear a matching jacket with your dress. This jacket is as playful as the dress. Bold colors and interesting ruffles make for a very unique style.
80s Prom Dresses
Find your classic style through several 80s dresses. Bring back the puffy sleeves, satin, and bows. Whether it's bright blue, neon or Madonna style, there are different retro 80s teen fashions to fit your style. Now, go get your groove on!