This mini skirt gallery features some favorites as well as new ways to wear mini skirts for teen girls. Although this is a nice overall selection of styles, new colors and patterns come out every season, so use your imagination and be creative when you accessorize!
Mini Skirt Gallery Favorite
Even tried and true favorites, like the jean mini skirt can be made fresh and new when paired with a bright-colored top and unique headscarf. Accessories make the outfit.
Pleated Plaid Mini Skirt
Plaid combined with pleats gives mini skirts a lot of dimension and flair. Pair with solid colors to avoid patterns clashing or attention being taken away from an interesting skirt.
No School Uniforms Here
The plaid miniskirt doesn't have to look like a school uniform. Pair it with some funky boots or bright colored stockings for a fun look with a modern twist. You can even cut matching stockings to wear on your arms.
Neutrals Look Classy
Do you want something a little more classy? Neutrals paired together work nicely to create a more professional look. Keep the skirt at least mid-thigh and it's perfect for a family dinner at your favorite restaurant.
Mini Skirts All Year Long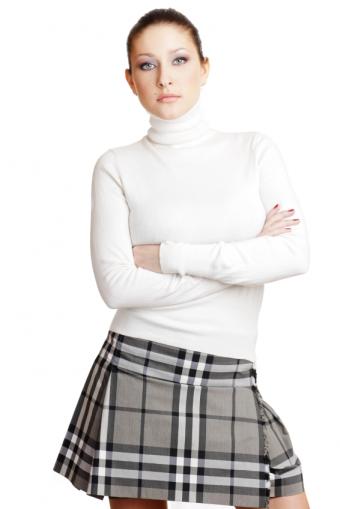 Do you think the only time you can wear mini skirts is in the summer? Pair a mini skirt with a sweater, jacket and boots to wear it all year long.
Fresh and Pure Country Looks
Simple, classic and pure looks are in. Pair a simple jean skirt with a jean jacket, brightly colored top and low slung belt for a fresh look.
Ragged Edges
One popular look that seems to trend back every other season or so is the frayed bottom mini skirt. This look is perfect for a day out with your friends or just hanging around. Comfortable, easy to pair with anything and cute, the ragged edge skirts will quickly become your favorites.
Think Shoes!
Shoes can really make or break your mini skirt ensemble. The right skirt paired with the right shoes (or boots) makes the perfect statement. Planning ahead for back to school? Then you'll want to check out LoveToKnow Teens' Back to School Fashion Slideshow.