Dressing for Prom
Prom is considered a rite of passage for any high school student. There are many types of prom suits you can wear, which range from basic and classic to the most elegant and formal tuxedo styles. When choosing prom suits, it helps to have an idea of the outfit your date will be wearing to best complement their look. If you're going stag, feel free to go with something that flatters your body shape while showing off your awesome personality.
Couple Co-Ordination
If you're heading to prom with a date, discuss beforehand what you're both planning to wear. Choose an accent color between you so you can both co-ordinate certain elements of your outfit; for instance, a green tie with a green dress. This is a cute way of ensuring you and your date stand out at the event for all the right reasons.
Casual Rebel
Even though there's a consensus when it comes to prom attire, you don't have to dress up fully if you really don't want to. To channel laid-back prom vibes, swap a fitted button-through shirt for a basic neutral tee under your suit jacket. Sure, it might be considered rebellious, but sometimes comfort comes first.
Timeless Elegance
Considered the bread-and-butter of a prom suit, the black tuxedo and white shirt combo is timelessly elegant. Add a co-ordinating black bowtie for a classic, refined appearance.
All White on the Night
Considered just as traditional as a black tuxedo, the white suit can be worn as a bright and summery alternative. Implement a complementary tie in a metallic gold or silver color for a luxurious chic ensemble.
Amp up the Accessories
Co-ordinating your bowtie or tie with a pocket handkerchief creates a visually appealing aesthetic, especially if the color is a little out of the ordinary. Choose a rich hue that pops against your suit, such as burgundy against a gray two-piece, and then polish off the look with a corresponding flower corsage.
Stripped Back and Modern
It's becoming commonplace at proms to stick with a two-piece consisting of a vest and suit pants instead of the conventional suit jacket and pants combination. You can make this outfit even more modern by opting for a vest and tie in a unique hue like chartreuse. To prevent this pairing from looking too matchy, consider a patterned or printed tie for added interest.
Retro Cool
It's cool to be contemporary at prom, but it's also cool to be completely retro. Consider nodding to the seventies through a vintage-style suit that has wide lapels on the jacket and frills down the front of the white shirt. This type of prom outfit is fun, distinctive, and guaranteed to turn heads.
A Pop of Seasonal Color
If you want to rock a classic three-piece prom suit, you can give it an instant style update by incorporating a splash of color into the vest, tie, or both. Even better, choose a seasonal hue that's a part of current fashion trends. This will produce an innovative, stylish appearance.
Cute and Quirky
If you're striving for individuality and you want to look fashion-forward, opt for a preppy printed shirt and bowtie combination. Choose a subtle shirt print, such as micro polka dots or thin stripes, for an understated aesthetic. Alternatively, you can rock a daring graphic print for a loud-and-proud feel. Either way, make sure your bowtie picks up a color from the print for extra style points.
Solid Three Piece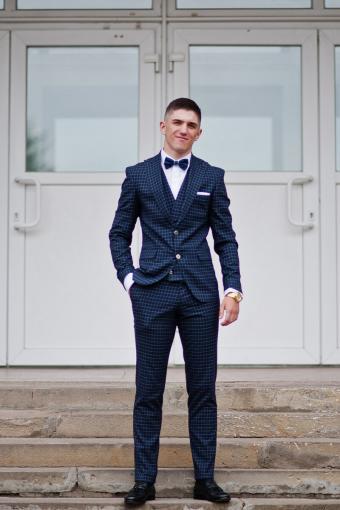 For a timeless, exquisite appearance, stick with a three-piece prom suit in an all-over solid color. Instead of neutrals like black or white, opt for a hue with a little more pizzazz such as light gray or navy. To look well-put together, finish this aesthetic with a co-ordinating tie or bowtie.
Contemporary Braces
For a fashionable, light-hearted feel to your prom outfit, consider leaving your suit jacket home and, instead, let your braces stand out and do the talking. Make sure your pants and dress shoes are a classic style so your whole ensemble is a party at the top and down to business at the bottom. This creates a bold, distinctive aesthetic.
Non-Traditional Hues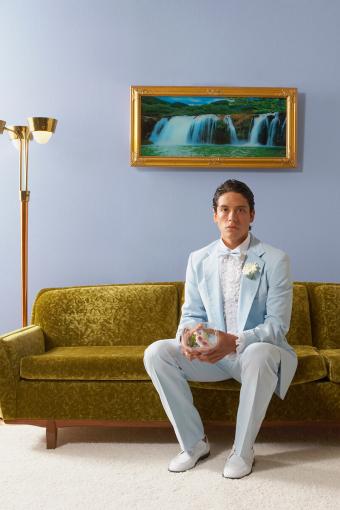 Finally, another way you can inject some personality into a traditional prom suit is to opt for an unusual all-over solid hue. Pastels work particularly well for spring/summer proms, whereas a dark, rich color would be better for fall/winter. Either way, stay away from neutrals and conventional hues for a one-of-a-kind appearance.
Which ever direction you decide to go, make sure you try on different options to discover what works for you. And remember, comfort is the most important thing when it comes to rocking a prom suit because when you feel good, you tend to look even better.