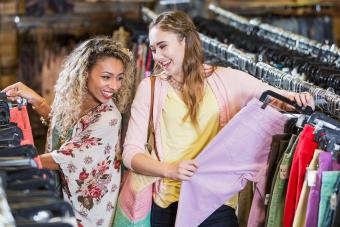 Is tall teen clothing mostly an oxymoron? For those on the hunt, it may as well be. So many teen clothing designers have made the natural assumption that teens still have some growing to do. When it comes to tall teen clothing, there are really two things to consider -- where to find it and the right styles to choose.
Where to Shop for Tall Teen Clothing
Many teen clothing stores these days do at least carry some styles of pants in long versions. Also, traditional clothing was created slightly longer in the length to allow for hemming room. For those just slightly taller than average, this may be all you need. For the rest of you, finding tall teen clothing items will require going to specialized stores or creating your own.
Stores That Specialize in Tall Juniors Clothing
Several stores have clothing for taller teens.
American Eagle Outfitters
American Eagle: If your style is part preppy, part casual, you may enjoy the styles at American Eagle Outfitters. They offer inseams up to 36 inches, so they're a good pick for those who get their extra height from long legs.
Aeropostale
This clothing manufacturer also has clothing designed with teens of all ages in mind, and offers inseams up to 34 inches for girls and 36 inches for guys, perfect for those who are a little taller than average.
Old Navy
For taller-than-average young women and men, Old Navy has you covered. You can find longer lengths in jeans, graphic tees, hoodies, dresses and more. Be aware that you may not have a very wide selection in your local Old Navy, and that shopping online may be your best bet.
J Crew
While this store isn't just for teens, the selection is classic enough to work for teens and women. If you're done growing, you're likely to get years of wear out of the clothing.
GAP
You can find classic styles for tall men and women at the GAP. The shirts are longer with longer sleeves, the waistlines and knee positioning are lower, and the inseams are longer.
Boden
Several of the bottoms in this line are available in long lengths. Unfortunately, the shirts don't seem to come in special sizes for tall girls, but the sleeve lengths and length from neck to hem are listed in the details of each item.
TopShop
There's a whole range of tall sizes at Topshop, designed for young women over 5 foot 7 inches.
Express
Even though Express doesn't advertise long sizes, the reviews on several pieces indicate that their regular lengths are longer than many others. If you're tall but still under six feet, it may be worth a look. If you don't have an Express store near you where you can try on the items before making a purchase, read the reviews for the clothing you're interested in first. You may find that the maxi dress you love is just right for girls who are five feet, nine inches - even with heels on.
Shopping Tips for Tall Size Clothing
Keep the following in mind when shopping for tall-sized clothing.
Long Legged Girls Need Long Length Pants
If your height is in your legs, then you can wear most anything in regular sizes except your bottoms. For pants, skirts and dresses, you will need to shop for long lengths or from specialty tall departments.
Adjust Your Style to Fit Your Length
In some cases, you can also adjust the style to fit your length. For example, if you fall in love with a pair of jeans that aren't available in size "long," you may still be able to wear them as capris instead. If skirts and dresses are your thing, wear some of the mid-length styles like your own version of the mini and simply avoid true mini skirts altogether.
Pay Attention to Your Midline
Break up your tall length with a midline distraction. Add a fashionable belt, wear contrasting colors on top and bottom, or choose outfits that hug more at your waist.
Wear Flats
Watch the height of your shoes. These days, even flip flops have some heel; however, in your case, sticking to the flatter shoes will help balance your height.
Wear Empire Waists
Balance out your long torso by creating length to your legs with empire waist dresses or tops.
Bracelets Can Lengthen Too-Short Sleeves
Sleeves can be tricky. Sticking to short-sleeves will make life the easiest, except when winter's chill hits. For those favorite tops with too-short sleeves, add some interest to your wrists to "hide" the short length. Flashy bracelets or a cool watch can be a quick solution.
Design Your Own
If you are handy with a sewing machine or know someone who is, find some fun fabric and use it to create instant length for your clothes. It can be a quick and easy project, plus an incredible way to create your own unique fashions.