Decorate Teenage Girls Bedrooms
You have many things to think about when it comes to setting up and decorating the perfect teen bedroom. Everything from the bedding to wall color, to accents you place around the room can help make the room seem more like home. The first thing you might want to think about is what type of theme matches your personality. You may like an airy, bright and upbeat style, or perhaps you're into a sophisticated chic look. Regardless, with the right color, accents and decor, you can have a little haven that uniquely fits you!
Luxurious and Calm Décor
If you're looking for an escape from the chaos of teenage life, you may want to look at décor like this. The colors are neutral, which will help you relax after a long day and sleep at night. The wrought iron canopy bed features sheer panels in each corner. A simple white comforter and bright, colorful pillows complete the look.
Wall Accessories for Decoration
If you're not an artist but still want some cool designs on your walls, consider buying sticky appliqués. You can buy many different designs. You can even get quotes or words to stick on your wall. To create the look of this room, go with a neutral color, like eggshell, for both the walls and the bedding. Add color with the wall decals.
White, White, and White
The look of this room is very simple and clean with white, white and more white. Even the furniture and study desk in this room are white. One of the great things about decorating walls and bedding with white is that you can change the look of the room simply by adding a few brightly colored pillows, a lamp, rug, or other accessories.
Teen Elegance
Buy Now"
Older teens will appreciate the elegant look of this room. The colors are muted but still young and bright. The bedspread pattern offers a pretty fleur de lis style. The walls are adorned with picture frame wall decals, but the inside of the frame is left empty. A small chandelier over the bed adds another touch of elegance. Any additional accessories should accentuate the colors in the bedspread and be light blue or lime green.
Click on the "Buy Now" button to the left to purchase the bedspread pictured here.
Minimalist Green Reflections
The look of this minimalist room could be completed with any bright color, including the green pictured here. You could also use dark purple, a fuschia or any other bold color. Choose a solid-colored bedspread that matches the paint on the walls. Add mirrors to the closet doors or along one wall. Complete the look with white furniture and white floating bookshelves in the shape of rectangles.
Patterned Purples
The focal point of this room is the patterns painted onto the walls. In the example pictured here, everything is a medium purple, but you could repeat this look with another color as well. The easiest way to create this is to start with a white base, use painter's tape to tape off the designs you want and then paint over everything with purple. When you pull the tape away, the white designs will be left behind. Finish the room off with a pink bedspread and purple accents on the furniture and accessories.
Stylish Storage
Paint the wall your bed rests on in lilac. Paint all other walls a neutral color of your choice. The color pictured here is a buttercream. Use shelves and cabinets to create a custom built-in as your headboard. You can order systems online from a closet company like Closet Maid, or purchase them from retailers like Ikea. This will not only provide plenty of storage to keep your bedroom neat and organized, but by using lilac colored storage bins in the open spaces, you'll coordinate with the wall behind your headboard. Finish with white and purple bedding.
Painted Squares and Bedspread Circles
Using one wall as a focal point is a good way to add interest to your bedroom. Paint all the walls white. Use a tape measure to create six-inch by six-inch squares across and down the wall, leaving about three inches between squares. Use painter's tape to outline each square and then paint the inside in alternating sage green, deep plum and bright orange. Finish the look with a bedspread with circles and funky, modern lamps of your choice.
Modern Green Bedroom
This is a room that can take you from your teens into college. Paint one wall a light green and the other walls off-white. Add a stripe of green over the doorway. Add squares of light wood on the wall behind the bed. (These can be created with floor tiles or plywood cut to size, stained and polyeurathaned.) Add a light green bedspread, simple stools and hanging lamps to complete the look. Cubes stacked on top of one another serve as end tables.
Modern Orange Bedroom
This pretty bedroom is created with light gray walls, modern furniture with built-in end tables and floral bedding that has an Asian flare. Lace panels and long drapes on the windows add an elegant touch. A modern piece of art in a coordinating color adds interest to the wall and a freestanding, orange lamp provides light and artistic flare.
Blooming Flowers Decor
More Details"
Embrace the fun of your teen years by adding big flowers in bold colors on the wall behind your bed. These can be painted on freehand with indoor paint, or you can purchase wall decals from your local home supply store. Arrange them in any order you'd prefer. Finish the look with pretty pink bedding in a variety of patterns, such as florals, polka dots, stripes and solids.
Click on more details to purchase these wall decals from AllModern.com
Decorative Dots
More Details"
These aren't your grandmother's polka dots. Instead, the big, bold dots scream young and fun. To create this look, paint the walls a pale gray, add white wainscoting around the bottom half of the room. Add a coordinating border horizontally around the top of the walls about three inches down from the ceiling. Finish with matching curtains, bedspread, lamp and laundry hamper. A few framed dots on the wall can be hung with ribbon that matches colors in the bedding and curtains.
Click on more details to purchase these dot decals from Wayfair.com.
Peace Out Bedroom
More Details"
Find a few peaceful moments in this bedroom. The look is created with either white paint or white wainscoting around the bottom half of the walls, a soft pink on the top half and sheer white curtains on the windows. A turquoise bedskirt is topped with a peace-symbol bedding set that you can pick up from Hayneedle.com. Framed images of peace signs in different sizes complete the look.
Click on the more details link to purchase.
Room for Gaming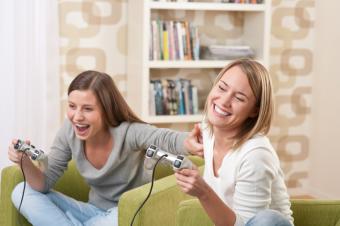 Recreate the look of this room with light tan walls. Create a chain pattern painted with a shade darker of tan on either side of a white bookcase. You can create the chains with a wall stencil available at hobby stores and home supply stores. Sheer white curtains keep the look soft and feminine. If your room is large enough, add a comfy chair or two, a TV and your favorite gaming system. It will be a fun place to hang out with your friends.
The selection of bedding varies from season to season, but stores that feature selections similar to the ones pictured in this slideshow include Ikea, Walmart, Bed Bath & Beyond, and Target. You can find dots and other teen wall decals at WallPops.com.
If you are looking for bedroom ideas for your teen to purchase as a gift, you may find different types of teen gifts in this Teen Gift Ideas slideshow.