In your role as spirit leaders you'll want to have plenty of signs at school, during games, and at pep rallies to help get everyone hyped up about your team. Take your posters to the next level of excitement with fun, original phrases and decorating ideas.
Signs for Players
Give each player his own moment of fame with personalized signs using their names, positions, or grade level. These posters should be smaller, like a standard sheet of paper, so there's room for them all and the players can take them home when the season's over. For a more creative look, use a computer program to include pictures, graphics, and typed text.
Run Through Banner
From senior night to homecoming, make your next game time celebration special with a cool banner the team can run through as they enter the field. Use bulletin board paper and tear a small part of the top and bottom center of the banner to make it easier to rip through. The goal with these signs is to intimidate the other team before a game. Ideas for sayings include:
Our Teamwork Makes Your Team Work
Did You Bring Earplugs? Because Here Comes the Thunder
Wit, Grit, and Spirit: That's What Tigers Are Made Of
Get Your Time Card Ready: We're About To Make You Work
Our Field of Dreams Is Your Nightmare
Consider This Your End Zone: We Win and You Go Home Unknown
Turf Is Green, Footballs Are Brown. We're Number One, So You're Going Down
Locker Posters
Celebrate players on their birthdays or for special events like playoff games by giving each a personalized locker poster. Make the signs look like Hollywood stars, newspaper articles, or even trading cards.
Future Hall of Famer: Owen Stevens #47 (Include his team stats.)
(Headline): Watch All Seven Degrees of Ethan Martin on the Field, (Subheading): Block, Run, Juke, Spin, Catch, Score, Dance
The Brightest Stars Don't Live in the Sky, They Call WCS Home (Add a star graphic and the player's name inside it.)
(Make this look like a confidential document): Defense Department: Classified Linebacker Mason Lewis
Seniors: Making Average Look Weak for Four Years
Players Make Plays, Teams Make Champions
Signs for School Decoration
Fill the halls with school spirit all season long with posters and banners meant to get people to the games. You can also use signs like these made from poster board or canvas panels in cheers and routines.
School Spirit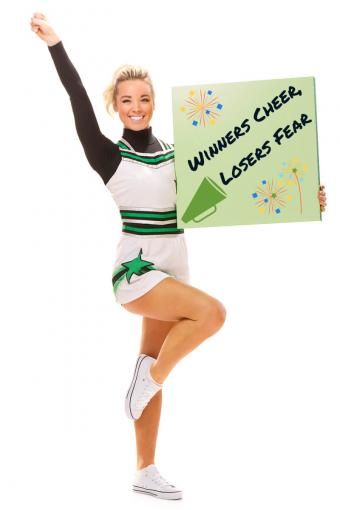 Use a football theme to evoke school spirit with inspirational phrases around your school or stadium.
We Don't Always Lose, But When We Do We Train Harder
One Does Not Simply Love the Warriors, One Becomes A Warrior
MHS Wolverines are the GOAT (Greatest of All Time)
(Picture of the football team) AHS Squad Goals
Empires Are Built On Loyalty and Respect: Show Some
Winners Cheer, Losers Fear
Any Player Can Get Tackled, Only a True Spartan Can Get Back Up
Game Days
Help get larger crowds at games by hanging these posters up on game days. Don't forget to include dates, times, and locations so everyone knows where to go.
Brace Yourself: It's Game Day
That Moment When You Realize It's Game Day (Add an image of a funny facial expression.)
Fake News Alert: The Rams Beat the Bears Tonight at 7
Better Grab Your Shades, The Dogs are Lighting Up the Field Tonight
Somebody Call Crowd Control, The Cats Play at Home Tonight
Crowds With Soul Help Score Goals
Show Off Your Team Pride
Football cheer posters and signs show others how much you love your team and help them feel the same way. Get the most out of your crowd with short messages featuring themes of spirit, teamwork, and winning.