Top 10 Hottest Squads in Professional Cheerleading
No doubt about it, these ladies are super talented. From singing to dancing to acting, the squads on this list have it all. As if it weren't enough to keep up with a team's schedule, these squads also surpass them all in community service and outreach, earning them a spot on the top 10 list of hottest squads.
The Dallas Cowboys Cheerleaders
The girls from Dallas are arguably the most well-known professional cheerleading squad for the NFL. Each year hundreds of women try out for a coveted spot on the DCC. Football games, a USO variety show, and numerous outreach events in the community keep these girls busy. While many know this squad for their moves on the field, you can find these girls:
In Joplin, MO, helping with clean up
Going barefoot for a good cause (TOMS shoes and Salvation Army event)
Acting as role models for area youth
Miami Dolphins Cheerleaders
One of the most notable things about the Miami Dolphin girls is the amount of community service they perform as a squad. Many squads encourage girls to participate in community outreach individually, and most squads do outreach to their communities in the form of cheerleading and dance camps. The Miami Dolphins Cheerleaders, however, are unparalleled in the amount of outreach they do around the world. In the past few years they been on USO tours, visited schools to talk to kids in the Dominican Republic, and particpated in numerous 'fitness for a cause events' such as Spinning for Kids in Distress.
Carolina Panthers' TopCats
The Carolina TopCats represent both Carolinas and cheer the Carolina Panthers to victories at home games. While they are not as well known as some of the other professional cheerleading squads, they stand out for the quality of their selection process. In addition to having to be physically fit, able to dance and generally talented on stage, these girls have careers that range from engineering to teaching.
The Charger Girls of San Diego
Rated the "Best Cheerleading Squad in the NFL" by SportMagazine, the Charger Girls really take their position seriously. While they work hard at the dancing and entertaining that comes along with the position of being a Charger Girl, they also spend countless hours reaching out into the community, donating their time and talent to organizations like the Junior Seau Foundation, Make-A-Wish Foundation, Children's Hospital, the American Diabetes Association, and D.A.R.E..
New Orleans Saints' Saintsations
In addition to entertaining fans at New Orleans Saints' events, these girls work hard promoting not only their team but different causes. From Thanksgiving soup kitchens to medical research events - you'll find this squad winning crowds over with their charming personalities and a magnanimous spirit.
New England Patriots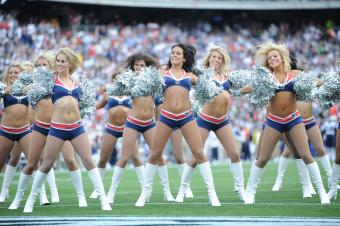 Cheering a three-time Super Bowl team is hard work, but these girls go above and beyond. They have traveled to Qatar and Afghanistan to entertain troops as part of a USO tour. In addition, these busy girls reach out to the community through the Junior Patriots cheerleading program.
Tampa Bay Buccaneers Cheerleaders
The Tampa Bay Buccaneers is one of the more elite cheerleading squads and consequently has a pretty high profile in the NFL. However, they still make time to consistently do military appreciation tours not only overseas, but also in the United States. They visit military bases throughout the world just to let service men and women know that they are appreciated.
Seattle Sea Hawks' Sea Gals
The Sea Hawks organization is heavily involved in a variety of charities. Elite girls from the squad are selected for a show troop that performs at military bases and visits troops overseas. In addition the girls use their fame for good, hosting fundraisers and community outreach programs throughout the community.
Redskins Cheerleaders
One of the most notable squads, the Redskins Cheerleaders keep a busy calendar. They are noted for outreach into the community with youth, hosting junior cheerleading and dance camps for area girls ages 7 to 16. They boast some of the largest youth squads amongst the NFL organizations. These dance and cheer camps give young girls the opportunity to perform with an emphasis on safety, fun and physical fitness.
Houston Texans Cheerleadeers
Sure, the Houston Texans are not as well-known as their other Texas NFL team counterpart, but that doesn't stop these girls from bolstering fans' spirits wherever they go. Whether it's a blood-drive, a junior cheerleader outreach, or their own HTC All-Star squad (made up of teens from local cheer squads, dance teams and drill teams), the Texans girls represent the organization with pride and a genuine interest in the community that supports them.
NFL Cheerleading Elite
Most NFL cheerleading squads are heavily involved in charity and community outreach. Many visit military bases to help give morale an overall boost. In addition, these top ten squads all have women who have been selected to perform on the Pro-Bowl Cheerleading squad, an honor given to those girls who best represent their organization through performances and appearances.