Sideline cheerleading is a term sometimes used to differentiate between team support cheerleading and competitive cheerleading, even though not all cheering may be done on the sidelines. Sideline cheers are performed on the periphery of the field or court to encourage the team and keep the audience energized while the game is going on. General cheers, offense cheers, and defense cheers are all used on the sidelines for football and basketball, and are often short and performed in repetition.
Cheers for Sideline Cheerleading
Get the audience excited! Go cheers and many other general cheers performed on the sidelines are just right for energizing a crowd. Modify these cheers for your own school.
Acrostic Sideline Cheers
These work well for shorter mascot or school names. They can also be used for affirmation words. For example:
B-E-A-R-S

Bears!
Energized!
Alive!
Ready- to-
Score!
B-E-S-T!

Best! Best!
Hawks are the Best!
Better Every Season
Trample the rest!
P-R-I-D-E!

Pride! Pride!
P --Pull out the pride!
R -Ride out the wave!
I - It's the Eagles'
D- Day!
E- Everybody yell - Pride! Pride! Eagle Pride!
Action Cheers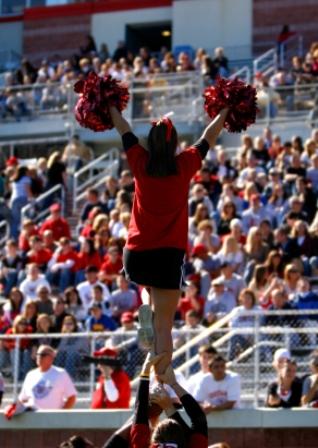 Dance Off
Harlem shuffle, Gangnam style
Dance with us, make sure you smile
Patriots run but never push
Dribble, dribble, spin and swoosh
Time to dance 'round the other team
Dance so fast you make them scream
Go Patriots!
Let's Go

Get fired up
Get fired up
Let's go!
Pump it Up
Pump it up
Rock it out
Push 'em back
We're here to shout
Pump it up
Rock it out
Push 'em back
Go Wildcats!
Attack that Ball
Attack that ball
Let's take it all
Eagles' fans shout
Let it out
Go Cheers
Go cheers are great for sidelines. Not only can they get the audience involved easily, they can also be modified to mix things up.
Let's Fight!
Go blue
Go white
Go Mustangs
Let's fight!
Go, Go!
Go, go! Let's score again!
Go, go! Let's get that win!
Go, go! Let's go! Go blue!
C'mon Get With It!
C'mon, boys, get with it
We want to win it
C'mon fans, cheer with us
We want to win it
C'mon Hornets, get with it
We want to win it
Crowd Response Cheers
Since sideline cheering should really engage the audience, crowd response cheers are perfect. One of basic formats is a "we say, you say" cheer involving the crowd. This can be done using team colors, team name and mascot, victory or support words, and more. Call out cheers are also popular, starting with terms like "hey crowd" or "hey, fans" and continuing with instructions in cheer form for interactive crowd responses.
Hey Fans!
Hey fans!
Here's what you're gonna do!
Yell out Bulldogs when we point to you!
We have no fear!
(Point) - Bulldogs!
Bulldogs are here!
(Point) - Bulldogs!
We have the aim!
(Point) -Bulldogs!
We'll take this game!
(Point) - Bulldogs, Bulldogs!
Go Bulldogs!
Do You Hear Us?
Hey fans, do you hear us?
There's no need to be so cautious
When we shout out a word
Let us know that you heard
We say Dragons
You say (point at the crowd)
Go! (point)
Fight! (point)
Win! (point)
Stand Up in the Stands

Hey, crowd!
Stand up in the stands
Clap your hands
Spin around
Stomp the ground
Yell black and gold (point at the crowd)
Our team's fame is foretold
Go, Gators!
Go, Gators!
Sideline Cheers Are the Heartbeat of the Game
Without the cheer squad to lead them, the fans may be unsure about how best to support the team. The role of the sideline cheer is to help excite the fans, encourage the team and even to get everyone involved. The best cheers are the ones that the crowd knows well and chants along with you. Now, go, fight and win!