Sparkle and Shimmer in Gold
If you want to make a bold statement at prom, gold is the color for you. Paired with white, black, or a bold color like red, gold can highlight and accentuate features like no other color can. Whether you're wanting to go head to toe in sequins, or going for something more subtle, there is a gold dress for you.
Click on the 'Buy Now' or 'More Details' link at the bottom of each slide to see purchasing information for any of these dresses.
Add a Splash of Color
Buy Now"
Perfect for the gal who doesn't want an all-gold dress, this fitted creation adds a splash of purple applique flowers down the bodice to add interest. Other details include a small train and pearl detailing along spaghetti straps. Pair this with a pair of clear or purple high heels and dangling earrings for a classic, Hollywood-style look.
The dress comes in sizes 2 to 26 plus, is made-to-order and costs about $150 to $180.
Golden Mermaid
Buy Now"
If you have curves you want to show off, the mermaid gown is the perfect choice. This gown is made of gold sequin fabric but adds interest with tulle panels for a fuller skirt. Pair this number with subtle black earrings and heels and you'll be ready to dance the night away.
The dress comes in 2 to 26 plus, is made-to-order, and costs about $135 to $165.
Romantic Ball Gown
More Details"
Show off your sweet, romantic side with this white ball gown embellished with gold, glittery designs by Jump Juniors. A sweetheart neckline and spaghetti straps give this an air of innocence, while the full skirt and pleated bodice help accentuate the bosom. Show off your neckline in this dress with a classic updo.
The gown comes in sizes 1/2 to 9/10 and retails for about $170.
Bring on the Sass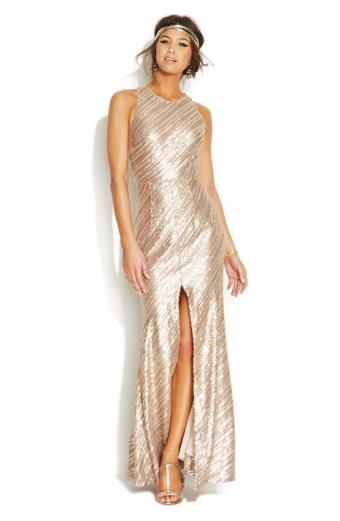 More Details"
Go for a look from the 20s with this smart, sassy sequin gown from b Darlin. A light gold colored gown is adorned with gold sequin on the front. The cut-out back shimmers and shines with rhinestones, and the extra-high slit adds a little sexiness to a fairly modest dress. The cut of the gown is ideal for a young lady with short hair. Add a pearl or rhinestone hair piece for an extra sassy look.
The dress comes in sizes 3/4 to 13/14 and retails for about $300.
Show Some Leg
More Details"
If you're wanting to show off some leg, this gold mini dress is for you. Form fitting, the dress features geometric lines in gold and a scoop neck back. Pair with chunky white or gold high heels and wear your hair down to give off a sophisticated appeal.
The dress comes in sizes small, medium and large in both juniors and womens. For the budget conscious, the dress retails for about $70.
Beautiful in Rose Gold
More Details"
Whether you are fair or darker skinned, rose gold is sure to flatter you. This art-deco inspired number features sequins and mesh over a rose gold dress fitted bodice with a flowing skirt. Pair with strappy high heels and wear your hair down and in loose curls to off-set the geometric lines of the dress.
The dress comes in sizes 4, 6, and 8 and retails for about $540.
Cute and Flirty
More Details"
You can't go wrong in this short prom dress from Dave and Johnny. Featuring an off-the-shoulder bandeau top with a pleated, a-line skirt, this dress makes a statement. There is a sash you can tie around the waist or leave hanging. Pair with strappy high heels and a sassy, half-up, half-down hairdo.
The dress comes in sizes 0 to 16 and retails around $160.
Dancing the Night Away
More Details"
Dance the night away in this strapless gown that features a full, ankle-length swing skirt. The bodice is done in sequins while the skirt is done in tulle. The skirt features cascading scattered sequins throughout the overlay to add extra sparkle as you twirl your way through the night. Pair with comfortable dancing shoes and a half up, half down hairdo for a sweet look.
The dress comes in sizes 0 to 32 and retails for approximately $375.
Glamorous Halter Dress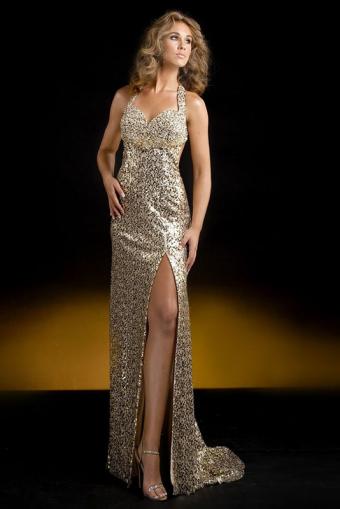 More Details"
This dress features a halter top with straps that criss-cross over an open back. With a fitted look and a slit that reaches mid-thigh, this dress makes anyone look alluring. Pair with chunky high heels and blow out your hair to give it extra sheen to pull off this look well.
The dress comes in sizes 0 to 12 and retails for about $400.
Sparkle With Rhinestones
More Details"
For an interesting look, try this fitted mini-dress by Jasz Couture. With rhinestone beadwork on the entire dress, a sweetheart neckline and rosette appliques, you'll look like you just stepped off the runway. Pair with dainty high heels and understated earrings so you don't detract from the dress.
The dress comes in sizes 00-16 and retails for about $240.
Other Metallic Options
More Details"
If you want to shimmer and shine, but find that gold is too bright for you, try a silver dress instead. It's a bit more understated, but still offers plenty of sparkle. For example, this Grecian-inspired, one-shoulder silver dress is a great option. Featuring a flattering a-line silhouette, the dress shows off subtle chevron stripes in a silver metallic pattern.
It comes in sizes 3 to 13 and retails for approximately $100, making it a great budget option.
In addition to gold or silver, keep in mind that there are other metallic dresses to choose from. You can buy just about any color you want in metallic fabric, or try a combination dress where the bodice is metallic but the skirt is the color of your choice. For old Hollywood style glamour, go for a pearlized dress.
Regardless of which look you choose, give yourself plenty of time to find that perfect dress. Remember that if you wear a metallic dress, your accessories should be understated so as not to make the ensemble look gaudy.