Finding Junior Pageant Dresses
Finding junior pageant dresses can be easy if you know where to look. You can find beautiful pageant looks online and in retail stores, and with the selection available, you're sure to find a gown that makes you feel like a winner.
Formal Dresses
Most beauty pageants have an evening wear portion of the contest. This is where the girls don their beautiful formal ensembles and display them for the judges. The girls are judged on presentation as much as the actual gown choice, so it is important that the girl be completely comfortable in her dress.
Choosing Dresses to Wear
Finding the right dress to wear to a pageant or beauty contest is easy if you know what types of dresses flatter you best. Dresses with patterns such as plaid, polka dot, and stripes are often good choices if you want to stand out. Bright colors are also a good choice. Be sure to look for a dress that highlights your coloring and doesn't distract from your own beauty.
Black Dresses
A black ensemble is a traditional way to dress, and this is a good choice if your pageant has a formal dress portion of the competition. Black and neutral colors are also complimentary to many different skin tones. If you choose a black gown, be sure to find one with an interesting cut or eye-catching embellishments.
Cool Colors
Choosing a dress that has a cooler color, such as blue, green, or purple is good if you want to look calm on stage and if you look best in these color tones. Some pageants may even have themes, and if the theme is nautical, then a blue or green dress would be a good choice.
Unique Styles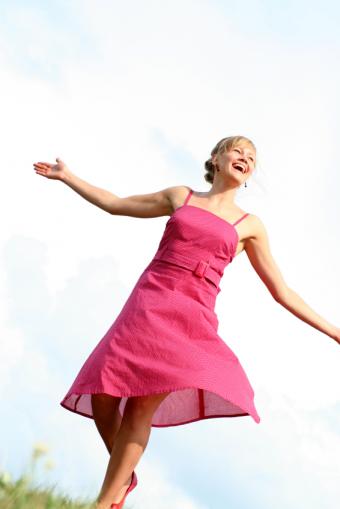 Pageant dresses tend to stick to a very specific dress style. Although girls do sometimes vary what they wear, and different pageants may be more formal than others, the traditional pageant dress is long, with a full skirt and is somewhat modest. For a unique look, choose a gown with embellishments, such as crystals or pretty floral embroidery on the skirt. Another way to stand out is to choose a designer who makes dresses with interesting material or color combinations.
Winning Pageants
Whether you win or not, competeing in pageants should be fun. The best way to succeed at pageants is to be yourself and to choose junior pageant dresses that make you feel comfortable and confident.