Finding Modest Prom Dresses
Finding a modest prom dress may sound difficult since many popular dress styles tend to be revealing. However, with a little searching, you'll find the perfect prom dress for you that doesn't show off too much skin. Each person's definition of modesty might be different, but modest gowns typically:
Completely cover cleavage
Cover most or all of the legs
Keep the back and mid-section covered
Have a looser fit
Modern Long-Sleeves in Lace
More Details"
Get the long-sleeve look without feeling matronly when you purchase a gown with a lace bodice overlay and lace sleeves. Modern trendy colors like dark blue or rose give the dress a youthful look unlike standard black or white lace. This style fits most body types because of the A-line skirt, but will work best for girls with smaller chests.
Halter Top Gown
More Details"
If you're okay with showing some shoulder and back, a halter top gown is a great option. The high-neck style of the top gives you full coverage on even a large chest. The ruched chiffon material floats effortlessly over any body type to give you that ethereal look. For a more modest version, add a cute chiffon capelet and keep the romantic feeling of the fabric.
Short Prom Dress With Sleeves
More Details"
For proms where short dresses are the norm, you can rock a knee-length bedazzled dress. The underlay of the skirt hits just above the knee while the sheer overlay provides more coverage and falls below the knee. Short sleeves and a high neckline provide modesty while the sequin top and circular back opening give it a modern edge.
Flutter Sleeve Gown
More Details"
When you need shoulder coverage that won't stifle you on the dance floor, consider a gown with flutter sleeves. These loose-fitting short sleeves cover the shoulders and top part of the arm, but are open on the underside of the arm so you can still move freely. The A-line fit and higher neckline make this dress ideal for girls of any size.
Modest Two-Piece Gown
More Details"
It's totally possible to be both trendy and modest with your prom dress! Get the hot look of a two-piece gown with all the coverage you need when you choose a high-neck top with sleeves and a high-waisted skirt. Your chest, shoulders, and legs get full coverage while only a sliver of your midriff shows. An easy trick to hide that bit of belly is to wear a nude tank under the outfit which gives the illusion of your midriff showing.
Red Carpet Inspired 3/4 Sleeve Gown
More Details"
Channel old Hollywood and your favorite celebrity gowns with a three-quarter sleeve fully beaded gown. Girls of any size and shape will look ready for the red carpet with this elegant look. The belted waist adds definition to every body while the V-shaped back makes it feel more youthful.
High-Neck Grecian Gown
More Details"
Get instant, effortless beauty with a Grecian gown. The high neckline of the chiffon overlay provides chest coverage while the loose-fabric and belted waist highlight your body shape without hugging it. Girls with every body type can rock this flowing gown with blingy accessories to give the look more visual interest.
Elegant Square-Neck Maxi Dress
More Details"
Girls with smaller chests and a flatter mid-section will love this ballerina-inspired square-neck maxi with spaghetti-straps. The fitted top and mid-section give you youthful chest coverage while the flowing skirt twirls wide as you dance. Add a bejeweled belt and accessories to glam up this effortless look.
One-Shoulder Modest Gown
Buy Now"
Show off your shoulders and cover your chest with a modest one-shoulder gown. The fitted, ruched top is great for fuller-chests while still providing full coverage. The extra-long and flowing skirt is sure to help you make a grand entrance at prom.
Elegant Pants and a Shirt Dress
Buy Now"
For the ultimate trendy modest look, opt for a ruffled, high-low shirt dress with evening wear cigarette or tuxedo pants. This beautiful ensemble gives you coverage from neck to ankles, front to back and works with every body type. Give the look a more elegant feel with upscale, bedazzled heels or booties. Add an elegant skinny belt and formal jewelry to round out the look.
Tank Top Ball Gown
More Details"
Girls with smaller chests can try out a tank-top style top on an elegant ball gown. The wide straps and square neckline cover your chest and more of your upper body than a sleeveless or strapless gown. The full skirt floats away from the body so it's not to form-fitting. Add long opera gloves and layer a higher-neck, satin tank under the top to get even more coverage.
Short-Sleeved Sequin Gown
More Details"
Cover your chest and shoulders with an elegant, cap-sleeve sequin evening gown. You'll look like a movie starlet in this style fit for tall, slim girls. The high, draped back adds a unique touch to this classic red carpet look with a mini train. A loose waist and hip section keeps this dress from feeling too sexy.
Modern Modesty at Prom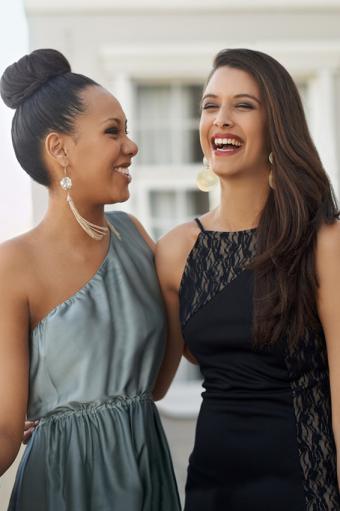 Modest apparel is a current fashion trend, which makes it easier to find prom dresses that cover your body. Styles that often incorporate modesty include:
Select the one that suits your personal style and you'll be comfortable and fashionable all evening.