About Red Junior Dresses
The color red makes a bold fashion statement that is appropriate for almost any occasion. A simple red shirt dress like the one here can be casual enough for a day with family and friends. You can also dress it up with a pretty, sheer scarf for a dinner out.
Red Sundresses
Summer is the time to wear cool, flattering sundresses. Try a red cotton sundress with a light floral print for muggy summer days.
Red Dress with Leggings
Pair a simple, short red dress with white leggings, a wide black leather belt, and a leather jacket for a unique back-to-school look. Also wear a dress like this over blue jeans for a casual appearance.
Red Flapper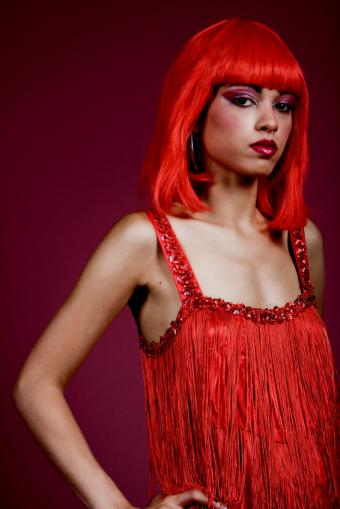 When October hits, finding the perfect Halloween costume for the school party may be at the top of your list. A red flapper dress will take you right back to the Roaring 20s and quench your thirst for all things scarlet.
Christmas Formal
A beautiful, deep red gown makes one think of cranberries and Christmas dances. This dress is also versatile enough to wear for winter pictures, school parties, and even prom.
Red Prom Dress
Get noticed at prom with a vibrant, cherry-red gown. The gown here has a traditional full skirt, but prom dresses today can also be form fitting or short.
Partial Red Dresses
If full out red isn't quite your style, try a dress that has red accents like the black semi-formal dress here with red peeking out from the bottom of the skirt.
Vintage Red and White Polka Dot
This vintage looking dress is red with white polka dots. Add a strand of pearls for a truly retro look. This dress would be ideal for a picnic or to wear to a cousin's wedding.
Unique Red Dresses
If you have a red dress that doesn't look great by itself, try pairing it with unique accessories to make your own fashion statement. Add leggings on the arms, black tights, and even wear boots instead of high heels.
Red for All Seasons
Red is a color that works for every single season of the year. A simple red dress with silver shoes will always be in style and can almost replace the basic black dress. Don't just limit yourself to red dresses, though. Also check tween dress ideas for bursts of aqua, pink, and yellow.