Creating a resume when you don't have a lot of experience can be a challenge for teens. Follow these trends and tips to make your resume standout in the best way possible. Select the template you like best to download, customize, and print using the Adobe Guide for troubleshooting.
Basic First Resume Template
If you've never made a resume before, this basic template can help you get started. Simply edit each field after you download the document to include your personal information.
Creative Resume Template
Teens who have a little more to add to their resume can start to play with format and style to show off their personality as much as their assets. Edit each field in the template to personalize it and choose a color that best suits your personality. Pull a short quote from a letter of recommendation you've had written for you to use in the header.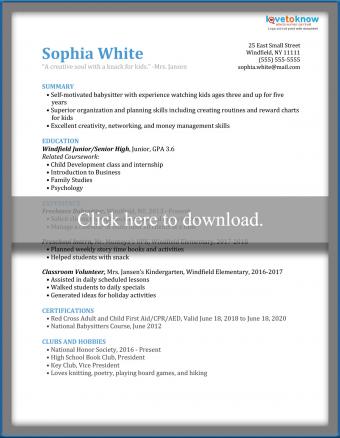 Choosing Resume Sections
Mix and match any of the categories from either resume template to create a resume that truly highlights what you have to offer.
Summary Statement
This first paragraph tells an employer in two or three sentences exactly why they should hire you for this job. Try to include your experience with specific duties related to the job you are applying for.
Skills and Expertise
This category is general, but your responses should be as specific as possible. Make a list of all your strengths and skills then decide on a few that best fit the job you want.
Activities and Related Experience
A broad category description such as this could include work experience, volunteer experience, and camps or special events you've attended. If you don't have a lot of professional experience, this is a great place to show off personal experiences that relate to your work ethic or job skills.
Education and Awards
If you don't have any notable awards, remove that part from the heading. Since you've only got one school to list, use this section to highlight your degree track, specific classes, and any other educational affiliations you have.
Certifications
If you're looking to work in a job like lifeguarding or daycare, some certifications may be required so showing that you already have them can give you a leg up. You could also change this section to "Awards" or "Honors" if you don't have any certifications.
Clubs and Hobbies
Including clubs and hobbies to your resume helps give employers a better idea of who you are. If you don't have a lot of other experience, this section gives you the chance to share your skill sets and interests.
Formatting Tips
Chronological resumes work great for adults, but teens fare better with creative, or hybrid, resume formats.
Stack the Top
The top part of your resume is going to get the most attention because that's where people spend the most time. Make sure you have your most convincing information at the top.
Contact information should also be at the very top of the page, but the next section depends on your personal experience.
A summary is the trendy new way to replace objective statements, so look for a way to include that next.
If you've had other jobs, start with a work experience section after the summary.
If not, lead with skills or relevant coursework.
Use a Unique Font
Arial and Times New Roman are the standard, but you want to stand out from the crowd. Choose something similar so it is still easy to read but avoid cursives or overly complicated fonts. Good font options include:
Cambria
Georgia
Lora
Verdana
Add Subtle Personality
Use a single, muted color for your name and the category headings to show creativity. Add a quote from one of your teachers, mentors, or someone you've worked with that makes you shine. Creativity on a resume can be risky, so make sure your personality shows in subtle ways.
Content Tips
Student resumes are typically limited to volunteer and school experiences. Look for ways to take this basic information from standard to amazing.
Use Keywords
Some companies use special technologies to sort applications before a person ever looks at them. Look at the job listing and take words straight from it to use in your resume where they make sense. For example, use the specific job title in your summary or start off your bullet points with these keywords.
Take Creative License
Get creative and use any life experiences you've had to show your job skills. For example, if you are responsible for doing the dishes or helping cook dinner, including that can show that you are responsible and a team player. If you've attended a week-long camp in another state or country that can tell employers you are responsible.
Sell Yourself
Think of a resume as a commercial all about you. You've got only a few seconds to tell someone everything they need to know about why they should pick you.