Cross-Body Bags
What teen fashions were popular in the 2010s? Given that self expression through fashion is especially revered by the teenage set, it is no surprise that the 2011 fashion trends for teenagers are some of the most varied in recent history. In fact, "history" is a big part of current fashion trends - teenagers have added modern details to popular looks from the '70s, '80s and '90s to give old-fashioned trends a new, fresh feel.
Take, for instance, cross-body bags. These were big in the 70s, then again in the 90s, but the 2011 favorite was smaller, daintier and featured chunky buckles and hardware along with distressed leather detailing or fringe. The result was a dainty "saddle bag" look reminescent of oldtime Western movies.
Loafers
Loafers haven't made the teenage "it" list in years, but strappy, high-heeled loafers are a far cry from the penny loafers of the 50s and 60s. Platform high-heel loafers were paired with dark tights, shorts and a loose blouse.
Fringe
Hippie-chic was definitely in, and what says "hippie" more than fringe? Rather than busting out a fringe jacket or top, the 2011 gal looked on-trend but understated by choosing accessories with fringe detailing. Scarves and headbands offered other cute alternatives.
Hair Feathers
The 2011's hottest hair trend was hair feathers; remember?? Like extensions, these feathers were woven into your hair for a semi-permanent accessory that really stood out.
Crop Tops
Last seen in the '90s, crop tops were back full-force in 2011 and the trend hasn't stopped! Most teens chose a looser top to pair with skinny jeans or a pair of high-waisted, pleated shorts.
Platform Heels
You can thank Lady Gaga for the return of platform heels! Luckily, unlike Gaga's sky-high heels, most cute platforms only had a half-inch to two-inch lift. Teens wore them with wide legged jeans and a basic tee.
The Color Gray
After watching just five minutes of the New York Fashion Week coverage for 2011, it became clear that the color grey was one of the year's top trends. This soft, comfortable color can do sexy, sweet or sporty depending on the cut and style of the clothes in question.
Vests
You'd be hard-pressed to walk through a high school in 2011 without spotting at least a few vests in the crowd. From sporty puffer vests to flowing '70s style fringe vests, there was a vest for every personality.
Accessory Overload
Forget Coco Chanel's advice about taking one thing off before leaving the house! In 2011, there was no such thing as too many accessories. Teens piled on the bangles, layered on the necklaces and adorned themselves with eye-catching belts.
Buckles and Studs
It wasn't just bodies that were getting accessorized - accessories were accessorized, too! One of the favorite trends were boots adorned with metallic studs, big buckles or other eye-catching details.
Shorts with Tights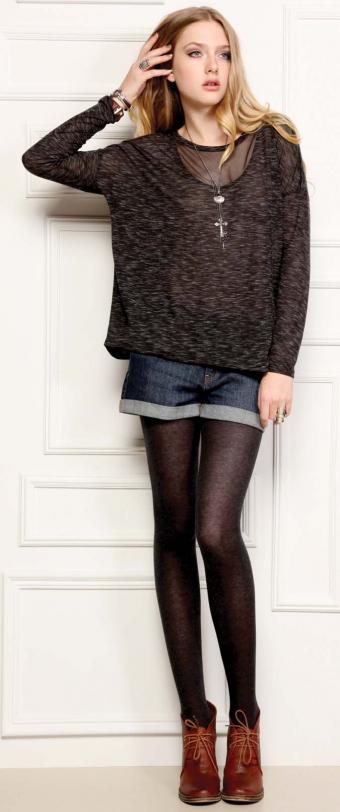 Another fashion twist of the early 2010s was to wear tights with your shorts to keep that summer fun going all year long!
Want to learn more about teen fashion? Check out Cute Clothes for Teens to get a leg up on the cutest trends out there.